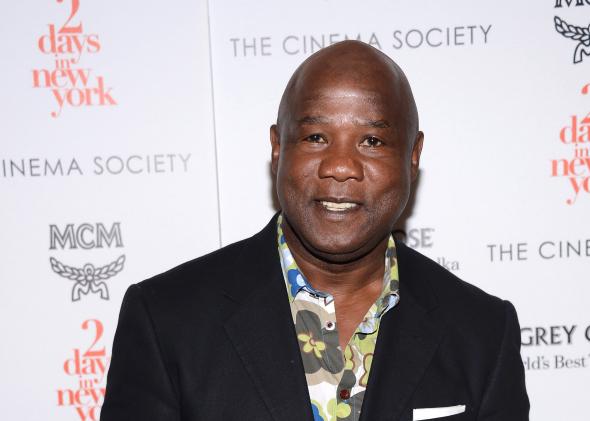 The following post contains spoilers.

One of the pleasures of Red Hook Summer, which opens in New York today, is the opportunity to check in on some old friends from Spike Lee's cinematic Brooklyn. It turns out that Mookie, Lee's character from Do the Right Thing, is still delivering pizza for Sal's Famous. (The pizzeria has relocated to Red Hook, and now displays photographs of brothers and sisters on its walls.) Another Lee character who makes a cameo is Isiah Whitlock's Amos Flood. Flood is the DEA agent who busts Edward Norton's Monty Brogan for cocaine possession in The 25th Hour. Whitlock had only a small role in that film, but he made it memorable by investing Agent Flood with a wonderfully drawn-out pronunciation of the word shit. It sounded like sheee-it.
As fans of The Wire know, Whitlock would later bestow that same verbal tic on State Senator Clay Davis, the unashamedly crooked character he played in David Simon's series. Near the end of season 5, I emailed Whitlock and asked him about the origins of his mellifluous pronunciation of that dirty word. He gave me a call to discuss the matter, only I wasn't at my desk, so he left me the following voicemail, which I treasure to this day:
He's been saying sheee-it for years. He picked up the habit, he said, from an uncle who apparently deployed the word in much the same way Clay Davis did. Whitlock offered an example: "How'd you enjoy your dinner?" someone might ask his uncle. To which he would respond, "Sheee-it, I tore them pork chops up."
So, we have Whitlock's uncle to thank for the inflection, but it was Spike Lee who gave sheee-it its big break. Lee, having heard Whitlock toss off a sheee-it or two in conversation, encouraged him to use it in The 25th Hour, in which Whitlock played DEA agent Amos Flood (and later in She Hate Me, in which he reprised the role). From there, someone on The Wire writing staff seems to have picked up on sheee-it's unique power. Whitlock says that when he got his first Wire script, it was already written into the part, extra e's and everything.
…Whitlock says it's not uncommon for him to be accosted in public and serenaded with a sheee-it from a fan or well-wisher. I asked him if this gets annoying, but he said it wasn't all that much different from someone coming up and asking for an autograph. He takes it as a compliment.
Whitlock's devoted, foul-mouthed fan-base will not be disappointed by his appearance in Red Hook Summer. Amos Flood gets but a brief scene—and he seems to have been demoted from federal agent to NYPD precinct detective—but he finds occasion to let fly what is arguably the longest, richest sheee-it to date.