Watch Kanye and Jay-Z Record Watch the Throne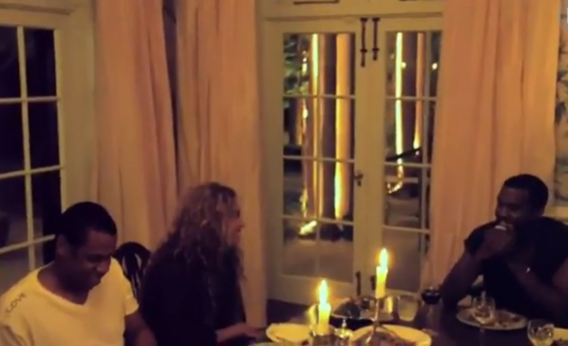 For all the dozens of music videos Kanye West and Jay-Z have recorded over their careers, it's rare that you get to see them at work. It may be that they're more interested in selling their lifestyles outside of the studio than all the time they put in inside it. But who wouldn't want to get a peek into the legendary recording sessions for My Beautiful Dark Twisted Fantasy, for example, for which West set up a sort of hip-hop sleep-away camp in Hawaii, with everyone from Justin Vernon to Rick Ross to Beyoncé?

In this new* documentary short for Watch the Throne, the glimpses of Jay-Z and Kanye at work are brief, but they're also unlike anything you'll see anywhere else. As big as Watch the Throne willed itself to be, the recording process—this part of which took place in a mansion in Sydney, Australia—is surprisingly intimate. We first see the two rappers together at a candlelit birthday party, but the birthday boy is Jay-Z, his wife is Beyoncé, and one of the gifts is a diamond ring. When they talk about Thriller, it's clear that they want to work as hard as Michael Jackson did to make an album that huge—but they're also just fans wondering what it would have been like to have been there.
If there's not as much studio footage as you'd like here, it may not be the documentarian's fault. Director Robert Lopuski said in an interview that he was asked to come shoot the documentary at the very last minute, and he was frustrated that he wasn't given more access. (This explains some of the filler here—shots of castles and misty forests and animals—which was shot miles away from the recording and only serves to set the mood.) Still, it's pretty amazing to see Kanye (with fellow songwriter Jeff Bhasker) honing in on the hook for "Lift Off," or, later, to see Jay-Z at a loss for words. At one point they're playing back "Illest Motherfucker Alive" (which became a bonus track on Throne), and Kanye is rapping about Russell Crowe, and Russell Crowe is actually in the room. More, please.

*Update, August 8, 2012: Other sites are pointing out that this video or another version of it was uploaded and then quickly taken down last summer. You may want to watch it now in case it's taken down again.