Watch a Short Documentary About Sikhs in the US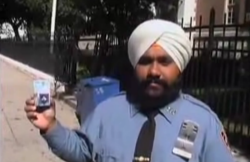 The shooting spree that killed six people in a Sikh temple in Wisconsin on Sunday was not the first attack that Sikhs have faced in the United States since 9/11. Sikhs have at times been the target of horrible hate crimes intended—no less wrongfully—for Muslims, because of the turbans that they wear as part of their religion. As one Sikh woman told the New York Times, "Just because they see the turban they think you're Taliban."

The best exploration of this issue that I've found comes in the form of the short documentary below, made by Kevin B. Lee (who also made the great video essay about "The Spielberg Face" that we posted a few months back). Wearing the turban is an important and even mandatory religious ritual for many members of the monotheistic religion, who also typically do not cut their hair or beards.

In addition to violence, some Sikhs have faced professional discrimination, such as the NYPD and MTA officers in this video who say they lost their jobs for wearing turbans, even after holding those jobs without issue for as long as 20 years.