How to Win the World Barista Championships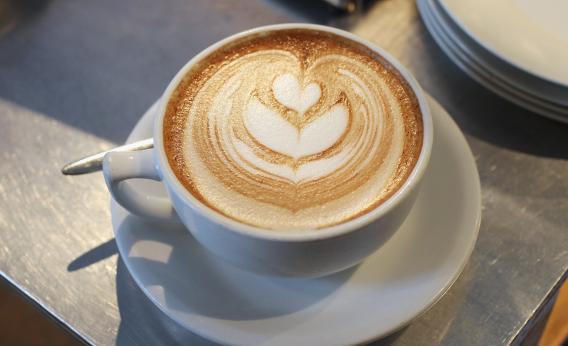 Barista: job of sociology majors, struggling actors—and skilled professionals. Skeptical about that last one? Watch some video from the World Barista Championships, happening this week in Vienna, Austria (a city well known, of course, for its coffee houses). Since Tuesday, more than fifty baristas from around the globe have been competing in the 13th edition of the event. At the highest levels, creating coffee has become a culinary art. The best barista will be crowned tomorrow.
So how does one pull the planet's greatest espresso shot and win the coffee crown?
First, you've got to qualify for the championship. According to Peter Giuliano, co-owner of Durham, N.C.'s Counter Culture Coffee and frequent barista competition attendee, the U.S. is divided into 6 regions; the top baristas from each region compete at the national championship, held last April in Portland, Oregon. This year's winner, New York's own Katie Carguilo, is representing the U.S. and Counter Culture at World's. Carguilo, Giuliano said, has been a barista for nearly a decade.
Once at the contest, competitors have 15 minutes to impress four certified "sensory" judges by serving them each three drinks—an espresso, a cappuccino, and a signature beverage. The signature must be espresso-based but can otherwise include any non-alcoholic ingredient. Most competitive baristas create a new signature drink each year they compete. At the World's this year, Carguilo's signature included a mashed plum, green tea, a few drops of vinegar, and carbonated water, all mixed with espresso immediately before serving. (The plum was a last-minute substitution: Carguilo used a nectarine at the national championships, but couldn't find the fruit in Vienna.)

As the drinks are prepared, the barista repeats a rehearsed script that explains everything about the coffee, from its color and how it should taste to the origins of the beans—baristas select and bring their own, of course; Carguilo's come from an El Salvadorian grower profiled last fall in The New Yorker. Meanwhile, a second team of "technical" judges monitors the barista for things like espresso craftsmanship (consistency is preferred), workstation cleanliness (cleaner is better), and ingredient consumption (less is more). "Very little milk waste," said Giuliano, "that's important—the judges look inside the pitcher."
Drinks from the same category are served to each sensory judge at the same time. The judges then score them on things like appearance, taste, and presentation. Baristas are not allowed to top their cappuccinos with spices or powders, and an espresso served with pale crema is a loser. A detailed explanation of how to consume the signature drink is mandatory. The whole performance is set to a cheering crowd and music of the barista's choosing. (Katie Carguilo likes to start her set with "Genesis" by Canadian artist Grimes.)
After two rounds and a final, a winner is chosen.
And the winner's reward? Glory, obviously—and a host of prizes. Last year's champion received an $8,000 espresso machine, a trip to the Mahlkönig factory in Hamburg, Germany (where they make coffee grinders), and a cover feature in Barista magazine. "Winners often do a kind of world tour to represent specialty coffee," said Peter Giuliano. "People don't compete for prizes. They compete for the honor of being that representative."