| 
Posted Sunday, May 13, 2012, at 12:55 PM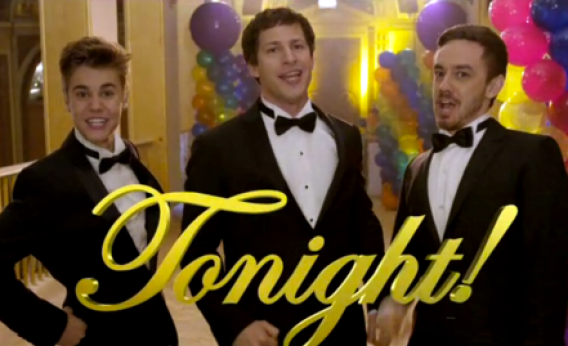 Justin Bieber, Andy Samberg, and Jorma Taccone prepare to stroke their own egos.
Still from Saturday Night Live's 100th Digital Short.
Everyone loves a good anniversary celebration, and no one more than the honorees. That's the central joke in Saturday Night Live's 100th Digital Short, which was revealed Saturday night.

Justin Timberlake, Natalie Portman, Michael Bolton, Julian Casablancas and more join the "celebration of us," which takes the form of a medley of Digital Shorts' best hits, and seems to also parody the tendency to shoehorn in guest appearances for such occasions.

Usher gets what might be the best cameo, before Will Ferrell shows up to do some self-celebration of his own, and don't blink lest you miss Jon Hamm (as Sergio) humping the giant fish from "Like A Boss." Mysteriously absent (at least at first) is third Lonely Island member Akiva Schaffer, who—perhaps to slip in yet one more celebrity cameo—is played by Justin Bieber.*

*Correction, May 14, 2012: This post originally suggested that Akiva Schaffer does not appear in the video. Schaffer appears about three minutes in.