Fiona Apple Returns with a Great New Single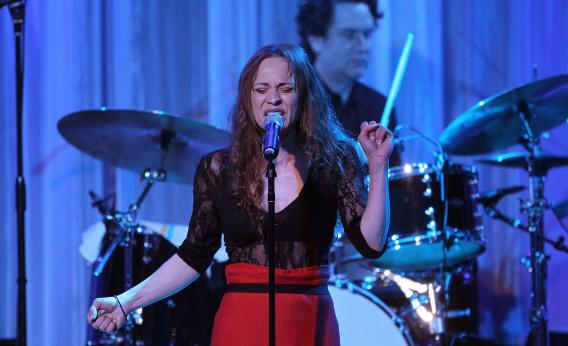 After almost seven years of silence, Fiona Apple returned today with the first single off her heavily anticipated new album The Idler Wheel. (Full title: The Idler Wheel Is Wiser Than The Driver of The Screw And Whipping Cords Will Serve You More Than Ropes Will Ever Do.) If you've been hungry for new material from the singer-songwriter, this wide-reaching song should have everything you're looking for: With "Every Single Night," Apple returns all at once in full force.
The lyrics may seem serene at first—but they soon turn angry and pained, with her expressive vocals matching an erratic tone familiar from tracks like Extraordinary Machine's "Not About Love." When Apple confesses "Every single night's a fight with my brain," you can hear the back-and-forth of the battle in her performance. By the time she reaches the centerpiece chant of "I just want to feel everything," she sounds like a manic-depressive who refuses to give up the extreme range of her experience.
Though the lyrics may jump between extremes, the arrangement slips from mood to mood as nimbly as Apple's vocals. The producer for "Every Single Night" doesn't seem to have been officially announced, but the orchestrations have all the markings of longtime collaborator Jon Brion. The central riff sounds like it's played on a music box, which matches both the ironic-lullaby lyrics and Apple's tightly-wound tone. These more tranquil sections are laid on a bed of quietly brushed drums, but a variety of percussion comes alive with the piano of the chorus and bridge.

While Brion's eccentric arrangements last time around caused quite a bit of controversy, leading to cries of "Free Fiona" from fans, it would be hard to argue with this recording. "Every Single Night" is the sound of a woman who will not be held back.