Did You See This? Ron Burgundy Announces Anchorman 2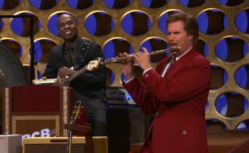 Today we spell redemption "R-O-N." Last year we demanded that Paramount Pictures, the studio that owns Anchorman but has dragged its feet about a sequel, "Free Papa Burgundy." Last night on Conan, Will Ferrell confirmed that the signature Burgundy blazer has been freed from its glass case of emotion.
Ferrell appeared as Burgundy himself to make the announcement, which he proclaimed "to everyone here in the Americas, to our friends in Spain, Turkey, and the U.K.—including England." He seemed to acknowledge his previous frustrations with paramount (his exact words were that they "have come to terms"), but mostly he seemed delighted to once again blow on his jazz flute.
There's no word yet on when the sequel will come out, but most of the cast, including Steve Carell and Paul Rudd, have previously expressed that they would reprise their roles, and original director Adam McKay is once again attached to write and direct. The team, who were surprised at the recent decision (Burgundy says it was reached at "0900 Mountain Time") have indicated that they're still "kicking around ideas," but for now one thing, above all, is clear: This is kind of a big deal.