Did You See This? Pavement's Second Live Show Ever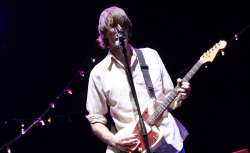 You can never quarantine the past, but apparently you can preserve it pretty well. Matador Records today tweeted out what they say is the second-ever live show from legendary alternative rockers Pavement. According to the accompanying Crush review, which notes that "Steve's always audible vocals bash, scream, and speak-sing out more good songs … than you thought were there," it went down on August 12, 1990 at Maxwell's in Hoboken, New Jersey. The recording is rough but listenable, and the band's raw-and-ready laid-back spirit is already in full ragged form.

In another time capsule from that moment, the highly positive Crush review predicts that "So long as these guys remain aloof from the temptations of the evil 'biz', I know of no reason why they shouldn't be able to make one great single a year for the rest of their natural lives." The band had two EPs out at the time, but their debut LP Slanted and Enchanted wouldn't come out until two years later.