Jack White Returns to the Sound He Always Should Have Had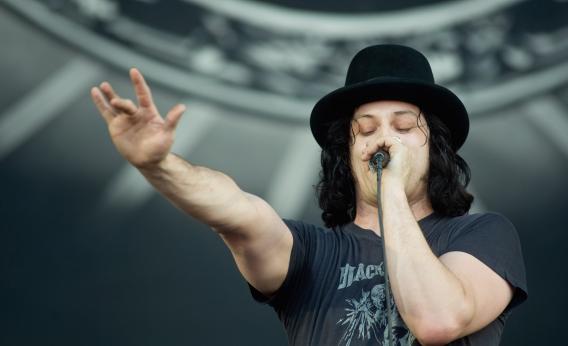 Jack White has been putting out music for well over a decade, but you could argue that he's never allowed himself the sound he always should have had. While Meg White's raw and swinging beat never gets enough credit (restraint is a trait that's grossly undervalued in drummers), she was definitely limited in her range. And in his work with groups like The Raconteurs, White has often ceded the stage to great but less charismatic talents like Brendan Benson. He's dedicated much of his time to rejuvenating acts like Loretta Lynn and Wanda Jackson, as a producer, while on The Dead Weather he mostly took a back seat, literally, and played the drums. Sometimes White seems like the one guitar wanker who's never selfish enough.
Now White is finally going solo with debut album Blunderbuss, out April 24, and you can preview the album with new track "Sixteen Saltines" embedded below. (It's the second song he's previewed from the album; he performed both on Saturday Night Live.) This is White as you probably remember him: "Sixteen Saltines" would have been at home on any of The Stripes' early records. This time, though, when the opening chords of distorted guitar crash in, the shinier production makes them sound bigger than ever—and they're soon joined by organs and some tighter-than-ever (if still thankfully minimal) stomping drums.
The song's lyrics depict a sort of high school love triangle—schoolboy romance is a favorite topic of White's. After talk of stickers and lockers and magic markers, White serves up a sexual metaphor that you can't quite put a finger on, a favorite technique of his (see also "Ball and Biscuit"). When he brags, "I eat sixteen saltine crackers then I lick my fingers," he's almost certainly talking about something less school-appropriate than "the saltine challenge."
White's vaguely coded, food-related sexual metaphors channel an era when being more explicit wasn't a possibility on air—here as ever one gets the sense that White is living in a slightly updated version of the late '50s or early '60s. For this reason I've never been as excited about White as many of his other fans. Still, he does vintage rock better than anyone else—sorry, Black Keys—and I'm excited that with Blunderbuss, he's finally giving himself his due.