Listen to Long-Awaited New Beach House Song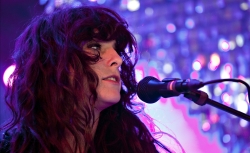 It's been two years since Baltimore indie duo Beach House released their breakout Teen Dream in 2010, and this morning they've breached a long silence with new song "Myth." If it seems like it's been longer than two years since Teen Dream began to build buzz in listeners' ears, that's in part because it has been: That album actually leaked months earlier, in 2009.

What's changed since then? Beach House may not be a chillwave band, but they did ride that genre's height to increased attention, including here in Slate. The nostalgic, slacker-worshipping movement that included bands like Best Coast and Wavves gained traction during the deepest pit of the recession, responding to high youth unemployment by getting high and watching old VHS tapes. In 2012, after some recovery, chillwave seems less like a joke that it's cool to be in on and more like the punch line to "seapunk," another minigenre that may or may not be sincere, but did get profiled in The New York Times.

Judging from "Myth" the times haven't much changed in Beach House's music, but that's not necessarily a bad thing. Beach House's hushed power lies in piling layers upon layers of swirling sonic textures, and then letting singer Victoria Legrand emerge, belting, atop of all that. "Myth" follows the same reliable formula. If there's a "new direction"— as the chorus suggests—it could be in the heavier use of synthesizers (note particularly the bass synth that comes in right before the vocal), but they fit rather naturally into the lush-as-ever mix. I was not as taken with Teen Dream as the fans that named it the album of 2010 (some did so before 2009 was even over), but "Myth" does have me excited for the rumored follow-up, Bloom, supposedly out May 15.