Trailer Critic: Tim Burton Returns to His Roots with Frankenweenie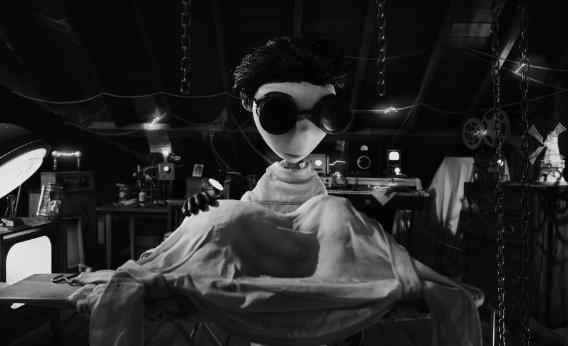 Tim Burton may have fallen out of critical favor in recent years, but from the trailer below I suspect that will change with Frankenweenie. For much (though not all) of the last decade, Burton has run on something like autopilot; in movies like Alice In Wonderland he loaned his stylistic signature to overblown Disney product, whereas his earlier movies were highly personal. But from the look of this new trailer, released earlier today, he seems to have crafted something especially fine and personal with Frankenweenie.
Frankenweenie is for Burton a quite literal return to his early days: The movie began as a 1984 live-action short film. The Frankenweenie short, also in black-and-white, was one of Burton's first films (Beetlejuice, Batman, and Edward Scissorhands wouldn't come until 1988, 1989, and 1990, respectively), and was unsurprisingly shelved by Disney for being too dark: the opening punchline involves the death of beloved dog Sparky. Just as here, the dog is soon revived by the boy, in the manner of James Whale's classic 1931 Frankenstein. For now you can watch it on YouTube, and it's available on the special features for The Nightmare Before Christmas.

This stop-motion Frankenweenie appears to find Burton returning to the Burbank, California of his childhood, where he often felt alienated from the oppressively sunny and wholesome-seeming town. Edward Scissorhands was also inspired by this experience, and the sets here seem to be that neighborhood in miniature. While the protagonist of that film was a sort of outsider artist, like Burton, here (and in the original short) the parallel is even stronger: The young protagonist is a filmmaker.

Still, perhaps the best part of the trailer is that it sticks to telling a story, rather than selling the various features of a product. Stars include Winona Ryder and Martin Landau, and the mournful music comes courtesy of longtime Burton collaborator Danny Elfman—but you won't see their names in the trailer.