Fleet Foxes' Robin Pecknold Records His Heartbreak in a New Song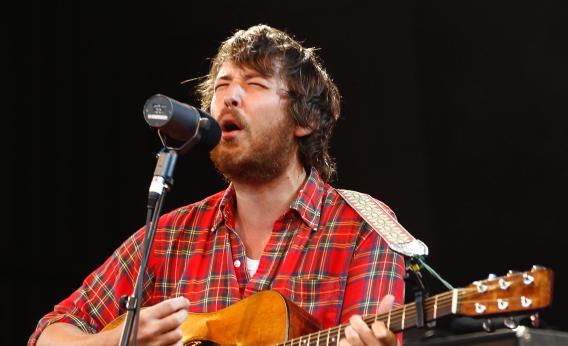 Two days ago Fleet Foxes' Robin Pecknold began tweeting about an apparent breakup with his girlfriend (the tweets have since been deleted), and the very next day he posted a new song about it. The new song, "Olivia, In a Separate Bed," is a direct address to his real-life love also named Olivia, and repeatedly calls her out by name. You can listen in on the intimate exchange via the embed below.

Over at NPR, Bob Boilen writes that the whole thing "strikes [him] as odd—tweeting about a breakup, writing a song and posting it online." I agree that listening to "Olivia, In a Separate Bed" is a strange experience, but these intimate songs, almost instantly released, seem less odd every day. While such autobiographical openhearted emoting might seem typical of a singer like Pecknold—bearded, sighing behind an acoustic guitar—it's arguably more common in recent rap and R&B. The most prominent examples of this kind of "oversharing"—a useful, but perhaps overly judgmental term—come from stars like Kanye and, especially, Drake. On tracks like "Take Care," Drake pleads openly with former darlings, while elsewhere he, just like Pecknold, calls exes out by name.
Raw, autobiographical songs are nothing new, of course—among the classic examples are much of Blood on the Tracksand some uncomfortably intimate tunes from John Lennon—but both the immediacy and the intimacy are compounded by the prevalence of home recording and social media. The enormously talented Pecknold and Drake are each only 25 years old, meaning that they probably spent at least some of their adolescence sharing personal details online—and that seems to show here. Not only did the track debut on Twitter, the same platform Pecknold used to vent the day before, but listeners are also responding in real time via SoundCloud, just as scores did when Jay-Z bared his own heart on the surprisingly immediate release "Glory," which featured audio of his newborn baby.

"Olivia, In a Separate Bed" strikes me as far from one of Pecknold's better songs—his best compositions probably took more than a day's impassioned reverie. But if a listen to it makes you want to snatch and smash Pecknold's guitar, keep in mind that this might not be some passing self-indulgence. It could become the new norm.

Update, Feb. 24, 2012: Both the song and Pecknold's Twitter account are now unavailable, and he appears to have taken them down.

Previously:
Jay-Z's "Glory," and 5 Other Great Songs About Postpartum Euphoria
Other Pop Songs in Which Beds Are Used to Symbolize Feelings of Loss