Could Will Arnett and Amy Poehler Become the Next Stiller and Meara?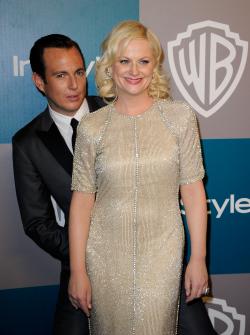 For many comedy fans (present company included), the main reason to see the new Japanese animated film The Secret World of Arrietty is that Amy Poehler and Will Arnett are dubbing the voices of the titular character's mother and father. This isn't the first time the real-life wife and husband have provided voice work for animated movies (they're both in the voice cast of Monsters vs. Aliens and Horton Hears a Who), nor is it the first time they've been cast as a couple. In their previous dual performances, Arnett and Poehler have created a special level of awkward comedy magic that America hasn't seen from a married couple in quite some time—a magic I wish they would show us more often.
The world was first treated to an Arnett-Poehler match-up in 2004, when Poehler guested on Arnett's then-obscure sitcom Arrested Development as a seal-seller who marries Gob on a dare on their first date. The union of Gob and Bride of Gob (as Poehler's character is identified in the Arrested Development credits) is doomed from the start; they begin bickering almost immediately after their shotgun wedding and continually put off consummating their marriage. Even worse, it turns out Bride of Gob is a fan of Tobias' (David Cross) erstwhile family band, and she ends up falling for her new brother-in-law:
Gob and Bride of Gob kind of have a happy ending—they do eventually sleep together in Season 2, which unfortunately ruins Gob's chances of annulling the marriage—which is more than can be said for Arnett and Poehler's next onscreen couple, the incestuous and villainous Stranz and Fairchild van Waldenberg in the 2007 figure-skating comedy Blades of Glory. Stranz and Fairchild don't let the fact that they're brother and sister keep them from including uncomfortably raunchy bits of choreography in their routines (which include a tribute to the illicit relationship between JFK and Marilyn Monroe) and eventually sharing a passionate kiss by the ice rink.
Possibly more awkward was Arnett's brief turn on Parks and Recreation in 2010. Arnett plays Chris, an MRI technician who gets set up on a blind date with Poehler's Leslie Knope. Though Leslie is initially attracted to Chris, she quickly discovers that he lacks the social skills one might desire in a romantic partner. What's more, he thinks that The Matrix is "99 percent real" and creepily brags about how his job lets him see inside of everything. The date culminates with Chris administering an MRI on Leslie and complimenting her on the size of her uterus.
Arnett's gravelly intensity and Poehler's perky mania are a match made in screenwriting heaven, and the spouses have an effortless onscreen chemistry that some other real-life couples don't. (Exhibit A: Ben Affleck and Jennifer Lopez in Gigli.) But another reason their scenes together crackle is that they're willing to go places other real couples might not venture—marital squabbling may be fairly innocuous comedy fare, but incestuous attraction and sinister flirtations are not.
In their willingness to make other people uncomfortable in the service of laughs, Arnett and Poehler remind me of another husband-and-wife comedy team: Jerry Stiller and Anne Meara, whose over-the-top quarreling made them variety show stars in the 1960s and 1970s. Unlike their predecessors George Burns and Gracie Allen, whose jokes were predicated on Allen's supposed stupidity, Stiller and Meara were two strong, clashing personalities who each got their fair share of punch lines—much like Arnett and Poehler.
It's been a while since America has had a married comedy duo to get excited about. But, assuming they keep working together, Arnett and Poehler have the chops, the material, and the fearlessness to warrant as long and popular an entertainment partnership as Stiller and Meara have had.