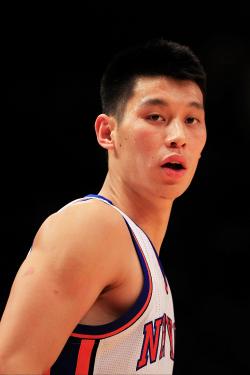 The singularly dorky ESPN Radio show Mike & Mike in the Morning paid basketball phenom Jeremy Lin what they called "the ultimate honor" on Tuesday, composing a parody song about him to the tune of Cypress Hill's stoner-rap classic, "Insane in the Brain." It was called, inevitably, "Linsane in the Membrane." The lyrics displayed a similar degree of creavity (sample rhyme: "Feel dumb when he comes and slams / Damn, this feels like a prostate exam"). The song mercifully ended after a single verse and chorus.
Mike and Mike's on-air verdict: "That's hilarious!" Sure it is. But when the co-hosts added that they had "a lot of different options" for Lin parody songs, and "that one ended up winning out," my morbid curiosity was piqued. How awful must the others have been?
A quick YouTube query left me wishing I hadn't asked. Turns out the video-sharing site has become cluttered with Lin-related raps in the week-and-a-half since his breakout performance against the New Jersey Nets. A couple are far better than the Mike & Mike version. Others are so bad that the mere thought of human beings spending the time to record them fills me with existential dread.
To spare you, dear seeker of Linsanity-related Facebook fodder, from similar nausea, I have sorted the many entrants from the best (a relative term, remember) to the worst. The faint of heart should probably stop after the first four. Those made of sterner stuff are welcome to follow me, like Dante after Virgil, into the depths of Internet-ephemera hell…
1. Mega Ran, "Jeremy Lin Rap"
Played as the soundtrack to Lin highlight montages on NBC and ESPN and referenced in the New York Times' obligatory Lin trend piece, Mega Ran's rendition is far and away the most listenable of the bunch. The repetitive synth beat and skittering drums aren't going to win Ran five mics from The Source, but they set an appropriately triumphal score for what's generally an uplifting rap about Lin's biography and work ethic. Ran's easy flow on the syncopated chorus, punctuated by a well-placed verbal stumble, sets him apart from the pack of wannabe YouTube MCs. As a bonus, the video's well-chosen Lin highlight clips make it a serviceable introduction to what makes the young man special on the court.
Hook: "From undrafted to talk of the league, from / Afterthought to all over TV / I tell you hard work is the key, but uh / This is what can happen when you dream (I'm Jeremy Lin!)"
Best line: "The haters gon' hate and call him lucky / first Ivy Leaguer in the league since Chris Dudley"
Poignant observation: "And even if it only lasts for a moment / Jeremy Lin took it and owned it"
Fun fact: The song describes Lin as "6-3 with a 4.2" (as in grade point average). A few commenters have knocked Ran for inaccuracy, noting that Lin's average at Harvard was a modest 3.1. Not so fast, nitpickers: The cognoscenti know 4.2 was his GPA at Palo Alto High School.
2. M. Fli, "Jeremy Lin Rap"
What this beat-for-beat remake of Drake's hit "Forever" lacks in originality, quality, and production value, it halfway makes up for in sheer sincerity. Its Palo Alto-based purveyor may not know how to properly mix a track, but his empathy for his hero is evident from lines like "My heart stands seven feet tall." Bonus points for apparently recording this back in 2010, before it was cool.
Best line: "Chasin' the dream and having it happen so beautiful / Was never meant for life in a four-wall cubicle / Rather ball John Wall, upstage him / Racial slurs not faze him"
3. Drew Boogie, "Linsane in the Brain Anthem!!"
This must be what the lame Mike & Mike effort was aiming for. With clean production and a passable impression of B-Real's nasally intonation, Drew Boogie achieves a clearly superior, if not exactly ingenious, Cypress Hill knock-off. If the lyrics are rather obvious, they're at least relevant, covering Lin's upstaging of Kobe Bryant and name-checking Knicks teammates such as his Stanford-educated backcourt-mate, Landry Fields.
Best line: "His first game's kinda ugly / But they couldn't hold 'em, even Kris Humphrey." (Note: Kris's last name is actually Humphries, but that wouldn't have rhymed as well.)
4. Lski, "Jeremy Lin Freestyle"
The echo-y production obscures some of the words, but those that come through do at least pertain to Jeremy Lin, which I was surprised to discover is not a requirement for Jeremy Lin raps (see below). "My first name is Lynn, so I felt like I had to do it," the MC avers early on, presumably heading off any assumption that he jumped on the Lin bandwagon for less noble reasons. The rhymes are less than brilliant, but have a certain charm—and, in any case, the high-energy beat lends itself more to head-nodding than over-analyzing.
Best/worst rhyme: "If you think that you gon' stop him / Then he be like no you not"
Best/worst rhyme, runner-up: "Yes he make it look easy / Finesse with the crossover / Asians ball in the gym / After AP class is over"
5. Queenzflip, "Jeremy #Linning"
With a not-half-badly-sung chorus and competent production, this tune verges on catchy. But the generic lyrics don't evince much knowledge of Lin-the-actual-person, as opposed to Lin-the-meme. And the MC's g-dropping pronunciation of the titular hashtag/pun renders "Linning" as "linen," putting one in mind of starched sheets rather than basketball prowess.
Hook: "J-Jeremy, J-Jeremy, J-Jeremy, L-Linnin'." (Repeat 4x)
Maly opens promisingly with a voiceover of a Lin interview, but quickly descends into boilerplate lyrical tropes that have nothing to do with the song's namesake. There's nothing wrong with this young Oakland rapper's flow, but this is clearly a case of slapping the words "Jeremy Lin" onto a random song in an attempt to capitalize on search traffic. The video shows Maly playing chess.
Chorus: "Jeremy Lin / I'm tryin' to ball like Jeremy Lin."
Worst rhyme: "Maly takin' over shit / Aint' too much you can do / Yeah I'm hot, but I'm cold / And I'm sick, so hachoo."
7. Yung Von, "Jeremy Lin"
Any comedy here is unintentional, as Yung Von opens by spelling out his Twitter handle—twice, in case you didn't catch it the first time—then mentions his presence on Facebook, too. And it goes downhill from there. The bulk of the rap consists of Yung Von's implausible yet oft-repeated assertion, "I'm Jeremy Lin." According to YouTube's click counter, 69 people worldwide had wasted 2 minutes 49 seconds of their life on this one as of Wednesday evening.
Chorus: "I'm Jeremy Lin. I'm Jeremy Lin. I'm Jeremy Lin. I'm Jeremy Lin."
8. DJ Floppy, "All He Do Is Lin"
Would you like to hear two portly white men spew hideous racial stereotypes in the guise of a paean to their favorite New York Knick? Then you're welcome to Google it for yourself. This is too stomach-turning to even link to here.
Chorus: "All they do is Lin, Lin, Lin, no matter what / Got Linnin' on his mind, he can even slam dunk / And every time he step up in the building / All the Asian hands go up"
Worst rhyme: "Ain't never count Lin out / Y'all better count me in / He got bigger balls / Than the average Asian"