How Do You Pronounce "Hazanavicius"? Our Oscars Pronunciation Guide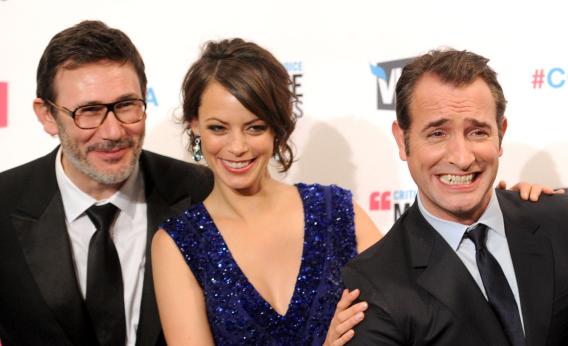 A couple weeks ago /Film declared 2012 "the year we all learn to pronounce Hazanavicius," but it seems most of us haven't yet made good on that resolution. Many newsmen have bungled the Artist director's name in Oscar reports, while at the New York Film Critics Circle Awards, the Frenchman's win left Robert De Niro stammering. After a few aborted attempts, De Niro finally grumbled, "You've got to change your name. You've got to shorten it."

Of course Hazanavicius isn't the only nominee leaving presenters tongue-tied. At the Golden Globes, Mark Wahlberg left the honor of announcing Artist actor Jean Dujardin's win to his fellow presenter, Jessica Biel—he appeared intimidated by the name, and had just complimented Biel's enunciation of the nominees—and the name of actress Bérénice Bejo can be similarly intimidating to non-Francophones.

With today's announcement that all three Artist talents are in Oscar contention, we're providing a cheat sheet for Oscar commentators. We hope you find it handy, whether you're debating the office pool at the water cooler or opening envelopes at the podium.

And the award goes to…

Name: Michel Hazanavicius
Nomination: Best director, The Artist
Pronunciation: mee-shell ah-zahn-a-veece-ee-us
Click to hear native French pronunciation:

Name: Jean Dujardin
Nomination: Best actor, The Artist
Pronunciation: zhah(n) doo-zhar-dah(n)
Click to hear native French pronunciation:
Advertisement


Name: Bérénice Bejo
Nomination: Best supporting actress, The Artist
Pronunciation: beh-reh-niece beige-oh
Click to hear native French pronunciation:
TODAY IN SLATE
Politics
The Democrats' War at Home
How can the president's party defend itself from the president's foreign policy blunders?