Hear Bon Iver and Five Others Sing a Grim Murder Ballad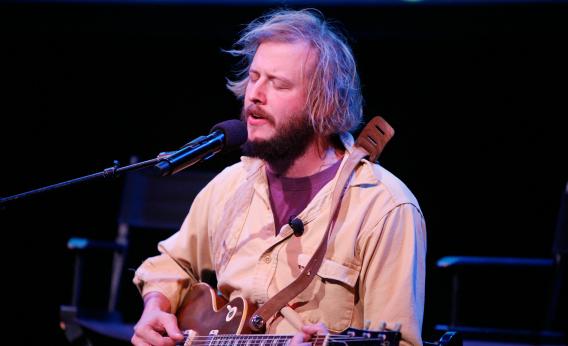 The song is a grim, traditional murder ballad (the second verse begins, "I drew my saber through her / It was a bloody knife / I threw her into the river / It was an awful sight"), and Bon Iver and his Irish collaborators have many previous recordings to compete with. According to Wayne Erbsen's Rural Roots of Bluegrass, G.B. Grayson and Henry Whitter are largely responsible for the song's dissemination; they reportedly made the first recording of it, under the title "Rose Conley," in 1927. Wade Mainer and Zeke Morris broadened the song's reach with a recording of their own in 1937; 10 years after that, Charlie Monroe gave the song national exposure with his own take for RCA:
A decade later, the Everly Brothers recorded the tune for their 1958 album, Songs Our Daddy Taught Us, slowing it down a bit to suit the melancholy lyrics. Though Phil and Don Everly are best known for their pop records, their father was a country singer, and this album was a genuine return to their childhood roots. But their attempt to convey the sadness of the song feels a bit literal and heavy-handed compared to Monroe's version.
Art Garfunkel frequently sang the Everlys' songs with longtime recording partner Paul Simon, and when he put together his first post-Simon LP, Angel Clare, he included a more contemporary take on "Down in the Willow Garden." Garfunkel brightened the tune a bit, relative to the Everlys' recording; though it's definitely over-produced, I may slightly prefer his version. (Those who argue that Bon Iver fits into the "adult contemporary" category may want to note the similarities between Garfunkel's rendition and the former's vocal stylings on his recording with the Chieftains.)
Given his interest in murder ballads, it's no surprise that Nick Cave would record the tune, or that his arrangement would match the song's mood better than perhaps any other recording. Less expected, perhaps, is that he would give vocal duties to Bad Seeds pianist Conway Savage. This version of "Down in the Willow Garden" was a B-side to "Where the Wild Roses Grow," a single (featuring Kylie Minogue) from 1996's Murder Ballads.
Three years after the Bad Seeds visited the Willow Garden, Jeff Tweedy and Jay Bennett performed the song together at the Old Town School of Folk Music in Chicago. Tweedy and Bennett add some appropriate, intermittent distortion, and the fragility of Tweedy's voice serves the tune well. Two years later, Bennett left Wilco; he died in 2009. You can listen to his and Tweedy's take on "Down in the Willow Garden" here.