What Seasoning Should Replace Black Pepper as Salt's Companion?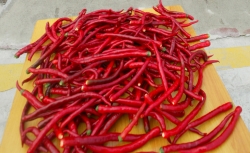 This week in Slate, Sara Dickerman asks how ground black peppercorns became salt's ubiquitous companion on dining tables and suggested that perhaps "it's time to rethink the spice." While saltiness is one of five basic tastes perceived by the human tongue—and salt enhances flavors without overwhelming them—pepper is another story.
Sharp, musky, and hot, black pepper brings a pungent punch that's welcome in some dishes but unpleasant in others—and too much of it, Dickerman writes, makes food taste "cheap and crass."
After considering several options—among them MSG, cumin, and Sichuan peppercorns—Dickerman concludes that the warm, fruity, and slightly bitter Marash red pepper should take over the spot usually reserved for black pepper.
But opinions on the matter are bound to vary, and already Slate commenters have put forth Sriracha, adobo, and green chile powder as superior options. What do you think?
Read Dickerman's piece to brush up on the options, then tell us your pick for "second seasoning" in the poll below. We have included a "none of the above" option for black-pepper traditionalists. And if you have a better idea, choose "other" and tell us in the comments the spice you prefer—and why.