Listen to Paul Krugman Seek Counsel from Rock Critics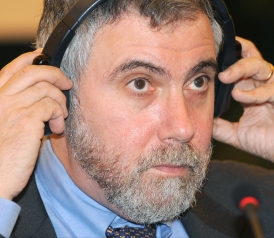 Paul Krugman, the Nobel Prize winner, blogger for The New York Times, and former Slate columnist, is a man whose opinion is sought on many of our most pressing questions. Is the recession finally over? Has government overextended itself? How can we restore the American dream? "Which new band should I listen to?" is not usually one of them.
For his own answer to that question, Krugman recently turned to rock critics Greg Kot (of The Chicago Tribune) and Jim DeRogatis (formerly of The Chicago Sun Times) on their rock and roll talk show Sound Opinions. In one of the show's recurring features, Kot and DeRogatis assume the role of "The Rock Doctors" and help a music fan with a problem—typically someone stuck in a listening rut and in need of new tunes.
Their usual patients are regular (i.e., non-Nobel-Prize-winning) listeners, so it was a surprise when this week the guest was Paul Krugman. "Given what I do for a living, which is looking mostly at dire stuff, I need something different," Krugman explained. "A little beauty, a little grace in life." To brighten up his days of monitoring the European debt crisis and downward nominal wage rigidity, Kot and DeRogatis prescribed Wye Oak and Gruff Rhys.

Also included as part of Krugman's appearance is a discussion of whether the music industry is as doomed as Greece (conclusion: the recording industry is, but the live industry might not fare so poorly), and Krugman's revelation that he is one of the many baffled listeners who discovered Arcade Fire from this year's Grammys.
As Krugman says, it's "a lot more fun than economics."

You can stream the complete episode via the player below, download it from Sound Opinions' website, or subscribe on iTunes.