Jeff Mangum at Occupy Wall Street: The Unlikely Protest Singer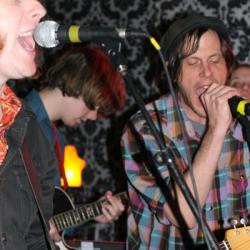 Last night, Jeff Mangum, the man behind Neutral Milk Hotel, performed at Occupy Wall Street. Whatever his performance may mean for the ongoing Wall Street protest, it was perhaps the most remarkable moment so far in Mangum's reemergence this year as a public performer—and even redefined one of his signature songs.
At the end of Aeroplane's final song, you can hear Jeff Mangum—the band's singer, songwriter, and all-around mastermind—set down his guitar and walk off, and, minus a few months of under-the-radar touring, that's exactly what Mangum did in real life.
Clark describes how Mangum "wandered the globe to find spiritual balance," spending time in a monstery, releasing a disc of "field recordings of Bulgarian folk music," and even briefly hosting a late-night radio show before being found out.
The most striking moment from the roughly half-hour set came when Mangum sang "Oh Comely," one of the stand-out tracks on Aeroplane. (As Clark points out, Mangum recorded his part on that song "in one scratch take, at the end of which you can hear a stunned band member yell 'Holy shit!' in the background.") Late in the song, Mangum repeats the lines, "Know all your enemies / We know who our enemies are."
The crowd around him sang along to those lines, seemingly savoring their new resonance. Given that some critics have charged Occupy Wall Street with not having a clear target, the second line, in particular, took on a defiant cast.
After Mangum finished singing, he waved to the crowd, accepted their thanks, and said, "You guys have done a beautiful fucking thing."
Watch the whole performance below. ("Oh Comely" begins about 26 minutes in.)