Charlie Sheen Roast Tame in Comparison to Charlie Sheen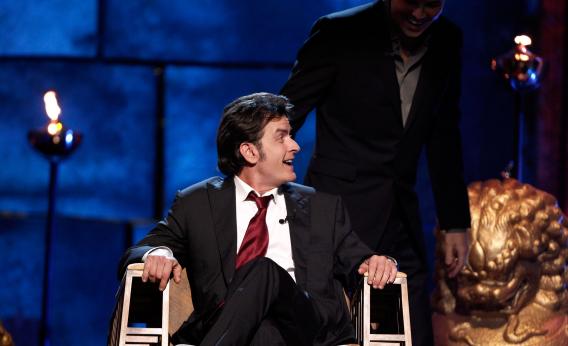 Last night Ashton Kutcher literally emerged through a shower of Charlie Sheen's (fake) ashes on the sitcom Two and a Half Men. Since it was announced that Kutcher would replace Sheen in the aftermath of Charlie's ongoing meltdown in March and his ouster from the extremely popular show, culture critics have wondered how Men would handle the cast-change. The answer is: not well. Kutcher is a big, handsome block of wood in the middle of performers with much more verve (Holland Taylor and Melanie Lynskey are especially wonderful). Say what you will about Charlie Sheen, but he is not lacking in charisma, and his absence was definitely felt. Kutcher deserves some slack—after all, it was his first show—but Sheen's particular talent for playing a lightly fictionalized version of himself left a hole in the show.
While Sheen's tiger-blood fueled antics were the subtext of Men, they were the text of the Comedy Central Roast of the addled star. These Roasts are meant to cross lines of good taste and civility, to provoke with transgressive humor. But with Sheen's Roast, nothing that any of the roasters said was anywhere near as transgressive or transfixing as Sheen's Internet-wide ranting back earlier this year. Even when Anthony Jeselnik, the crown prince of roasting, said to Sheen, "You've convinced more women to have abortions than the prenatal test for Down Syndrome," it lacked the manic intensity of Sheen's real life performance.
Sheen went up and did his own bit at the end of the Roast, and he seemed sober and reasonably together. As much as I hate to admit it (his appalling behavior, particularly his history with domestic violence, is well-documented), his minutes up on that dais were the most thrilling ones all night. In the relatively controlled, though vicious atmosphere of the roast, Sheen himself was the only one with potential for chaos.