MTV's Video Music Awards 2011: Beyoncé is Pregnant!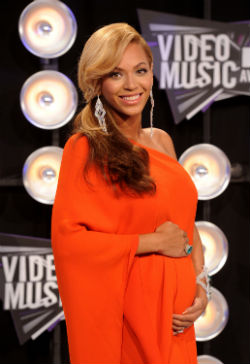 In its 27-year history, the VMAs have seen plenty of outrageous moments, both of the manufactured and spontaneous varieties. Tonight, the biggest bombshell dropped before the ceremony even began: In news that shook the pop world—and surely sent Willow Smith screaming to her agents in fear—Beyoncé announced, with a perfectly posed "black carpet" shot, that she and Jay-Z are expecting their first child. No doubt inspired by her happy news, Beyoncé later gave a joyful, rafter-raising performance of her song "Love on Top," which was easily the best moment of the entire telecast. I do hope that sequined-blazer-and-tuxedo-shirt combo is a preview look from the House of Dereon maternity line.

Last year, Lady Gaga stirred up controversy (feel free to apply air quotes as you see fit) by showing up to the VMAs in a dress made out of meat. Tonight, she opened the ceremony by delivering a monologue as her male alter ego, Jo Calderone. In a manner familiar to any old speech and debate nerds who may have been watching, Calderone offered an intense disquisition on the kaleidoscopic nature of truth and identity in popular performance. Of Gaga, Calderone said:
When she comes, it's like she covers her face because she doesn't want me to see, like she can't stand to have one honest moment where nobody's watching! I want her to be real. But she says Jo, I'm not real, I'm theater. And you and I, this is just rehearsal.
Then, still as Calderone, Gaga performed her latest single, "Yoü and I," throwing a bone to the over-16s in the crowd by bringing on Queen's Brian May to reprise his guitar solo from the album.
Gaga's evening-long commitment to never breaking character was quite admirable. Watching the twitchy way Calderone stared at Britney Spears when presenting her with the Michael Jackson Video Vanguard award—in an unsubtle homage to Brit's infamous buss with Madonna at the 2003 VMAs—was one of the more weirder and more enjoyable bits of an otherwise long, dry, evening.
Finally, MTV wants you to know that this woman is a celebrity. As the night's "house artist"—essentially, the evening's Paul Shaffer—British singer-songwriter Jessie J sang the audience in and out of commercials, therefore appearing on our screens approximately 3,000 times over the course of the evening. Expect to see more of her in the coming year. As we learned this weekend: Forewarned is forearmed.