Men Who Love My Little Pony: Is That a Thing?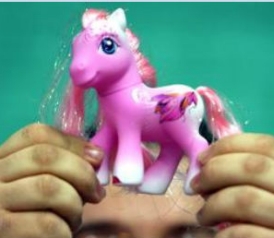 For the past several months, mash-up videos that take images from the TV show My Little Pony: Friendship is Magic and audio from, well, sources that are decidedly not My Little Pony: Friendship is Magic have become one of the more delightful—and strange—ways to waste time on the Internet.
Advertisement

The fan community behind them are known as "bronies"—i.e., bros who love ponies. Yes, they're grown men who love a franchise intended for little girls, and today, SlateV is going to tell you all about them. (Having trouble seeing the video below? Click here.)

TODAY IN SLATE
History
Slate Plus Early Read: The Self-Made Man
The story of America's most pliable, pernicious, irrepressible myth.