Explore Iceland's Natural Beauty With These "Live" 3-D Photos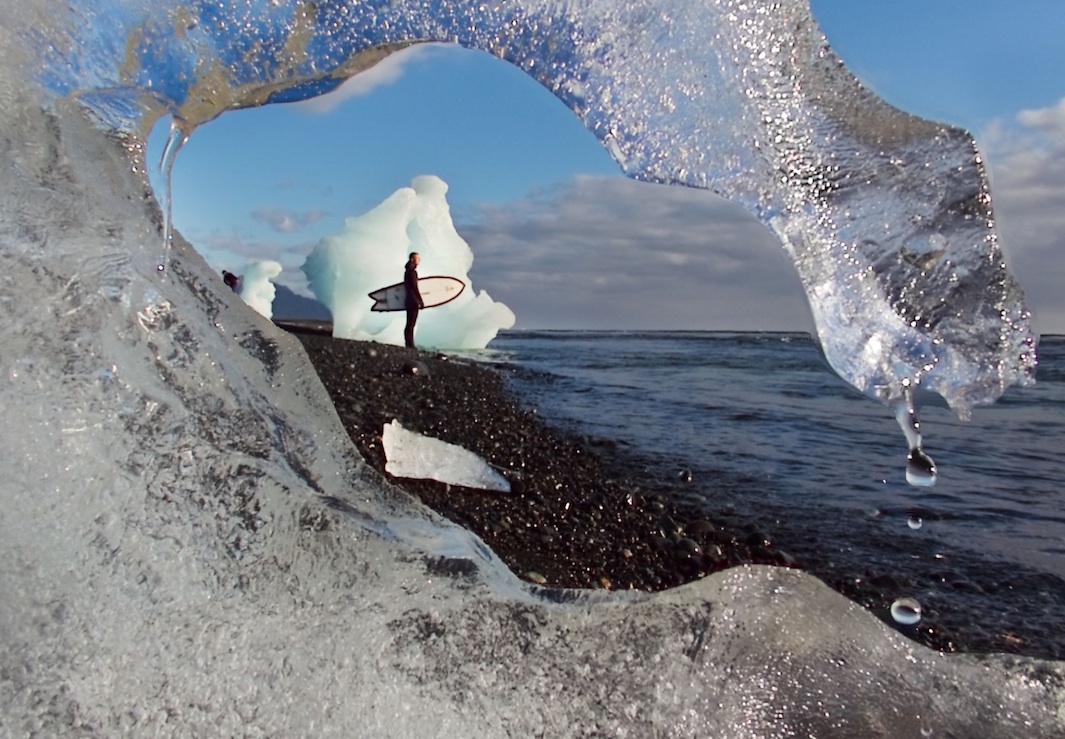 Chris Burkard has spent a lot of time photographing in Iceland, but during his most recent trip, he saw the country in a whole new way. That's because he was carrying a Lytro Illum, a camera that doesn't take your average picture.*
The camera, one of the only consumer light field cameras on the market, lets users capture the direction, color, and brightness of every ray of light in a frame. This allows photographers to alter a photo's depth, perspective, and focus after it's been taken, and create 3-D "living pictures" that viewers can explore.
"I wanted to shoot the camera in some adverse and unique conditions and see how it would perform in the harshness of the environment," Burkard said.
Picture-perfect waterfalls like Seljalandsfoss line Iceland's Route 1 (the Ring Road) with regularity.
When the conditions are right, the beach at Jokulsarlon Glacier Lagoon is an ideal surf spot.
The group trekked through Fjadrargljufur Canyon with the help of inflatable stand-up paddle boards.
In the past, Burkard has shot wide landscapes in Iceland, emphasizing the smallness of his human subjects against giant mountains, volcanoes, and glaciers. But with the Illium, Burkard was forced to get a little closer to his subjects, and to find compositions that could provide interesting fodder for his camera's unique capabilities.
"With the Illium I was fusing in these elements of the foreground with the landscape. I'd be on my hands and knees looking for pieces of rock to frame with; it taught me to interact with the environment in a different way," he said. "I've always appreciated Iceland for the big things—the mountains, the glaciers—but this trip made me appreciate the small things."
Burkard first worked in the country in 2008 on an assignment for Men's Journal to photograph Timmy Turner—a surfer who was told to avoid warm water to prevent a recurrence of a staph infection that almost killed him—surfing the frigid Icelandic waves. Since then, Burkard has returned for commercial and editorial assignments, drawn to the ever-changing landscape.
The Northern Lights shimmer over the Vatnajokull icecap at Jokulsarlon, a glacier river lagoon.
Professional arctic kayaker and Iceland native Elli Thor navigates Jokulsarlon.
With the help of ice screws, the crew installed a hammock on icebergs that came to rest on the beach of Jokulsarlon.
For this most recent trip, Burkard and his crew traveled for eight days, exploring 200-foot waterfalls, lava fields, and other natural wonders. They scaled Vatnajökull, Iceland's largest glacier, relaxed on hammocks hung between icebergs, and paddle boarded through Fjadrargljufur Canyon.
Burkard, who'd used the camera for the first time only a few months before at Yosemite National Park, took the time to experiment. At the beach at Jokulsarlon, a glacier river lagoon, Burkard framed a surfer inside the hole of a curling chunk of ice. At Skaftafel National Park, he placed a climber at close range, letting viewers discover a view of Hvannadalshnukur, Iceland's highest peak, in the 3-D space of the living picture. He used a similar technique to photograph the Northern Lights, focusing on a couple of small rocks in the front of the shimmering sky beyond. The idea, Burkard said, was to try to make each image tell a story, one that viewers can further navigate at home.
"For anybody who understands how to shoot a camera normally, it's not hard to learn how to use the Illium. What's more challenging is figuring out how to frame your shot and find the angle that makes sense. To get the full effect, you have to be creative and think that way. It's been challenging for me, but that's what makes it exciting."
The Skogafoss waterfall, with a 200-foot, unencumbered free fall, is one of Iceland's most striking landmarks.
Thick, green moss covers the rocky slopes of a lava field called Tvibollahraun, just outside of Reykjavik, Iceland's capital.
A local Icelandic climbing guide navigates the east wall of the Vatnajokull Glacier on Iceland's south coast.
From Skaftafell National Park, climbers can take in a breathtaking view of Hvannadalshnukur, Iceland's highest peak.
Correction, Dec. 28, 2014: This post originally mispelled Illum, a type of Lytro camera.