The Wild Streets of New York of the 1960s and '70s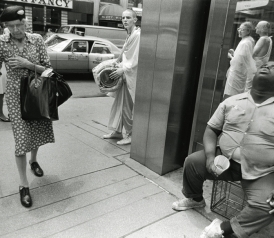 Photographer Paul McDonough has a knack for catching passing, off-kilter incongruities on the New York City streets. He arrived in the city in 1967 and started taking photographs of unique moments happening around him; the New York City 1968-1972 series is said to be his first as a photographer.
Capturing weirdness on the streets of New York City might seem like an easy feat, but McDonough has a rare ability to capture a confluence of gestures in the exact moment in which a great photograph happens.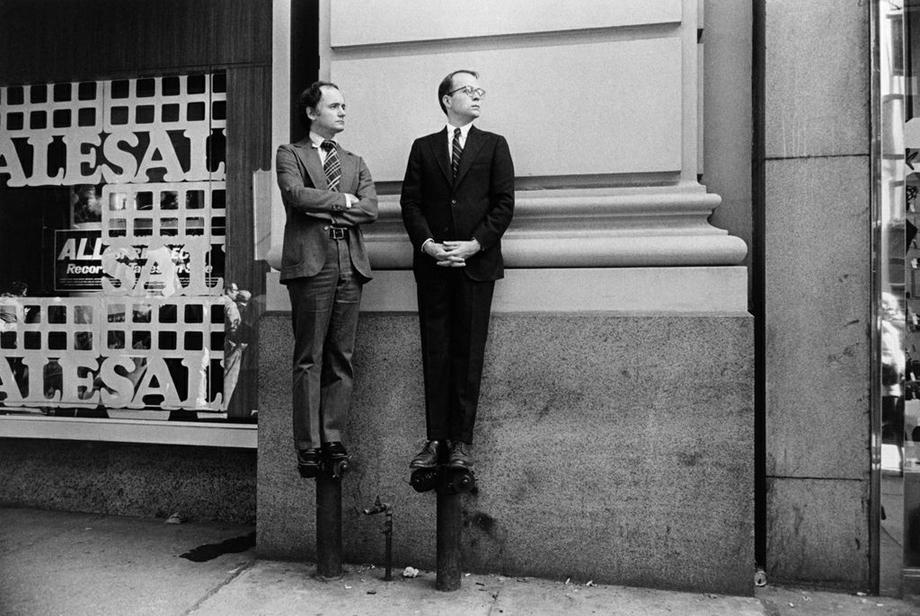 Although McDonough was relatively new to photography when he arrived in New York (he had gone to college for painting), he rented an apartment from photographer Tod Papageorge and eventually turned away from painting.
New York in the late 1960s was filled with a seemingly endless amount of visual material: characters like Moondog and be-ins were photographic fodder and were documented by McDonough as well as his contemporaries such as Garry Winogrand and Diane Arbus.
McDonough wrote via email:
"Public places, particularly like New York City, are very 'public.' It's very public and very private at the same time. People are in their own world when they walk. I don't generally stop to photograph, that would take too much time. I am photographing as I see something flying past me. I have to see what I want, and be ready and react to it at any moment … I never want to use the term 'street photography' because it's so confining and repellent … if I am standing in one place long enough, someone might say—'Did you just take a picture of me?', I would reply—'What picture?' There are no pictures, I am exposing film. When the film gets developed—that is when I discover pictures."
McDonough had befriended Winogrand in 1966, before moving to New York City, and would take photo walks with him.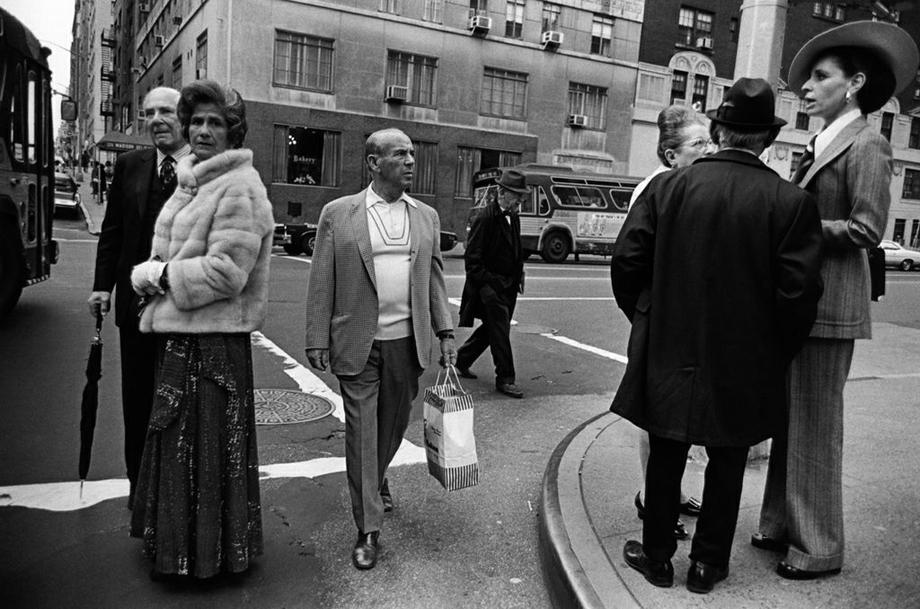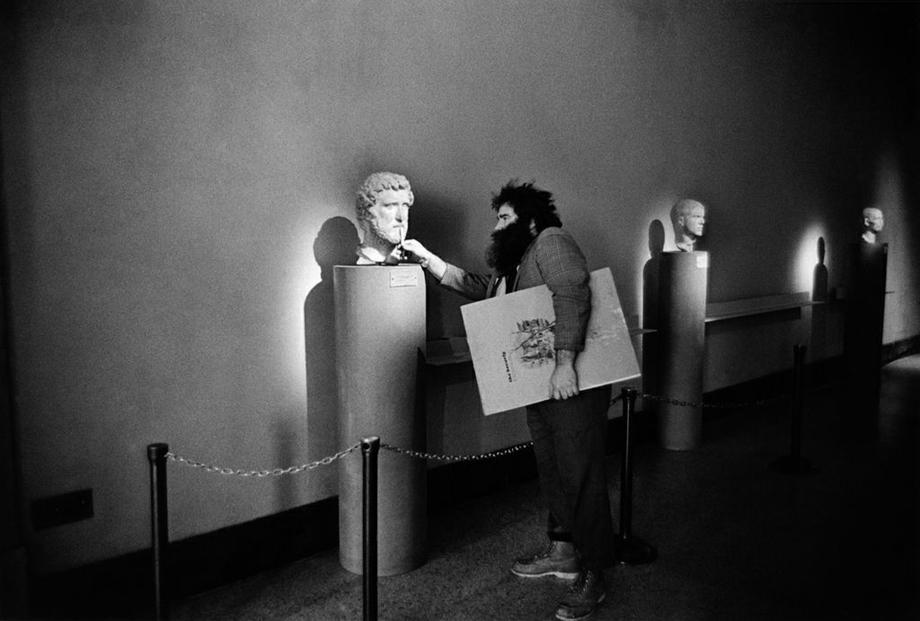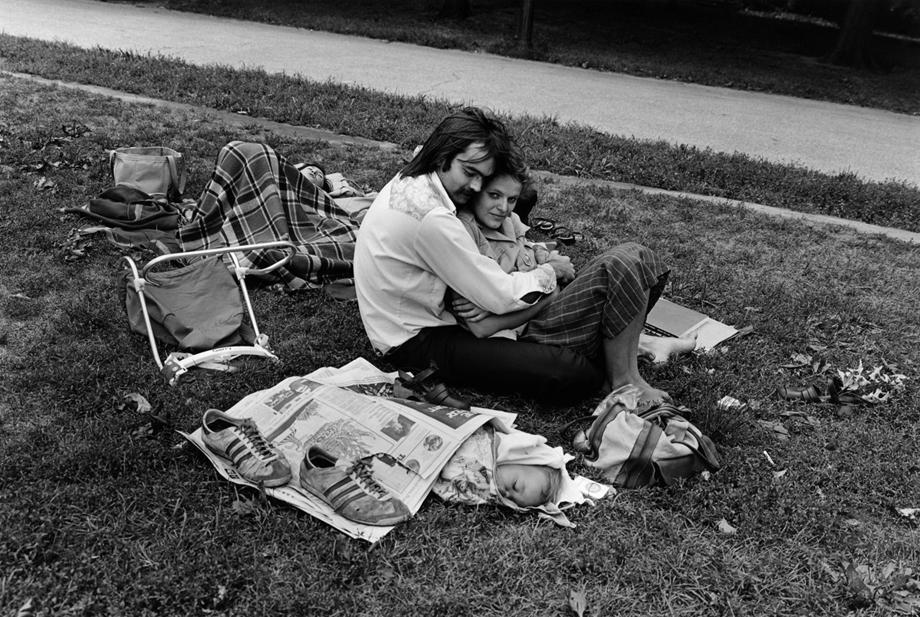 In the interview with Albert Mobilio in the introduction of his book regarding editing his large amount of film from his photo walks, McDonough describes "… the unexpected delight of finding a detail within the frame that amplified the larger meaning of the image. For instance, when I took the photograph Blind Man, Old Woman, Hari Krishnas, I was not especially attentive to the neon light that was above the head of the figure of the Hari Krishna on the far right. … Yet in the printed photograph, I noticed that the neon light suddenly took on the aspect of a halo, which seemed in keeping with the figure's prayerful gesture of clasped hands."
These details give McDonough's photographs so many points of interest, multiple layers beyond the ones that are already obvious immediately upon seeing his photos.
Although McDonough started showing work in 1970 and sold three prints to the Museum of Modern Art in 1973, he maintained a relatively low profile after a few gallery rejections and became involved in teaching art rather than pursuing art-world attention. It wasn't until 2007, when he met gallerist Sasha Wolf, that McDonough's work was published in its own volume.
McDonough said that tackling street photography today versus the 1960s and 1970s is radically different. He explained via email:
"The reaction is different today. Cameras are much more ubiquitous now. In the '70s there was a whole different atmosphere, it was much more laid back then. People didn't particularly care if you were photographing them. By today's standards, where there's so much media trying to get information from people, people are much more wary. People see cameras as containing the possibility of exploitation. Everyone is spying. Local government, advertisers—they all want to know what it is you are thinking and doing. People were less paranoid in the '70s."
McDonough's work Sight Seeing will be on view at Sasha Wolf Gallery in New York through May 5.