Asamkirche: The Rococo Church Where Death Hides in Plain Sight
Atlas Obscura on Slate is a blog about the world's hidden wonders. Like us on Facebook or Tumblr, or follow us on Twitter.
The ridiculously ornate rococo interior of Asamkirche (also known as the Church of St. Johann Nepomuk) in Munich is crammed with winged cherubs, swirling frescoes, and fiddly golden ornamentation. It's hard to know where to look, but one sight in particular draws the eye: a golden skeleton jamming a big pair of scissors at the lolling head of an innocent cherub. On the skeleton's back, ready to be hauled out an any moment, lies a scythe. It's Death!
Look closer and you'll see that Death's scissors are poised to snip a golden string being held by the cherub. If you're thinking "metaphor," you're a sharp one. That string is the thread of life, and Death can cut it at any moment.
The church designers—Baroque-loving brothers Egid Quirin Asam and Cosmas Damian Asam—placed this gilded memento mori right by the entrance when they created it in the mid-18th century. Though Asamkirche is now open to the public, it was originally designed as a private place of worship for the Asam brothers, who apparently preferred to begin each church visit with a dramatic reminder of their own mortality.
Correction, Oct. 21, 2014: The post originally contained photos of a different rococo church in Munich, Heilig-Geist-Kirche. They have been removed.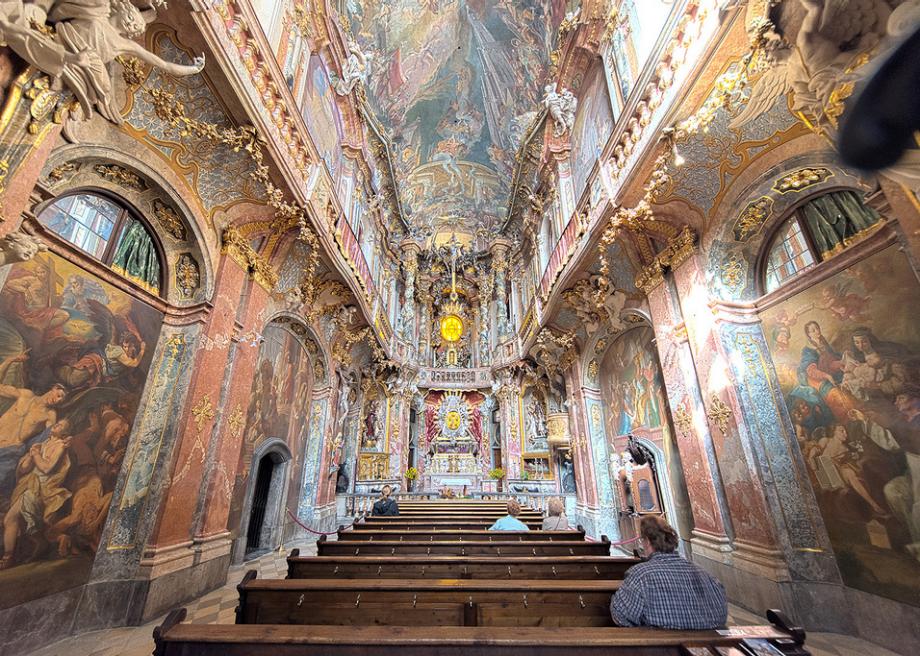 Other ostentatiously ornate rococo places: