Your Guide to the World's Hidden Wonders
The Old Nuclear Bunker Now Staffed by Mannequins
To gain access to the secret nuclear bunker at Kelvedon Hatch in Essex, England, just follow the road signs marked "Secret Nuclear Bunker."
Security at the decommissioned subterranean shelter has gotten a lot more lax since the Cold War days, but the bunker retains its eerie, apocalyptic feel. Built in 1953 to stealthily house hundreds of military and civilian personnel in the event of nuclear attack, the Kelvedon Hatch bunker is accessed through an ordinary-looking bungalow in the woods.
Advertisement

Conditions were relatively comfortable: VIPs tasked with running a nuked nation could do so with the help of air conditioning and heating, a self-contained water supply, generators, radio equipment, and protected telecommunications systems.
Of course, the bunker was never used for its intended purpose. The collapse of the Soviet Union removed the nuclear threat, rendering the Kelvedon Hatch hide-out obsolete. It is now a museum, its corridors full of dusty old telephones, geiger counters, and maps. A few rooms feature an unusual sight: battered shop mannequins in cheap wigs, posed in typical bunker scenarios such as resting and performing minor surgery.
The UFO Welcome Center, for Tired Extraterrestrial Travelers
On Sunday, creationist Ken Ham—who gained fame in February by debating Bill Nye—had some harsh words for NASA and its ongoing search for extraterrestrial life.
"I'm shocked at the countless hundreds of millions of dollars that have been spent over the years in the desperate and fruitless search for extraterrestrial life," Ham wrote in a blog post on answersingenesis.org. "Even Bill Nye 'the Science Guy,' in our recent debate, happily gloated about tax dollars being spent toward this effort."
Advertisement

For Ham and anyone else who balks at the idea of spending money on interplanetary diplomacy, there is a much more economical option out there: the UFO Welcome Center in Bowman, South Carolina.
The center, designed to attract and accommodate extraterrestrial visitors, consists of two stacked, saucer-shaped structures made of scrap wood and metal. Both were built by local alien enthusiast Jody Pendarvis, who began the project in 1994. Clutter, bits of wood, and fallen pieces of saucer surround the center.
Inside the 42-foot-wide bottom saucer is a bed, television, air-conditioning unit, shower, and toilet. The motel-like amenities are intended to offer respite for extraterrestrials who feel a little zonked after racking up frequent light-years of travel.
The smaller saucer, added in 2003, contains an air mattress and a communication system for attracting alien attention: flashing Christmas lights.
Tekapo: A Lake Made Beautiful by Rock Flour
A great benefit of living on a planet with an axial tilt of 23.4 degrees is that when it gets dark and snowy and horrible in the northern hemisphere, you can always escape to summer serenity south of the equator. Herewith, an option for the next northern winter: stunning Lake Tekapo on the south island of New Zealand.
Lake Tekapo gets its turquoise hue from "rock flour," also known as glacial flour. This fine powder is made when thick, heavy glaciers move down mountain slopes, grinding rocks as they go. The glacier then carries this rock flour down to the lake, where the ice melts. The powder remains suspended in the lake water, giving it a turquoise color.
Advertisement

The calming hue of Lake Tekapo combines with purple wildflowers, sage forests, and dramatic, often snow-capped mountains to create a scene of near-illegal tranquility.
A Tour of Wat Rong Khun, the Oddest Temple in Thailand
Wat Rong Khun, or the White Temple, is one of over 33,000 Buddhist temples in Thailand. But it's the only one that features a mural of a plane hitting the Twin Towers as Spiderman and an Angry Bird look on.
Artist Chalermchai Kositpipat began building Wat Rong Khun in Chiang Rai in 1997. The incredibly detailed, all-white exterior represents Buddha's purity. Mirrored trimming symbolizes self-reflection. The bridge to the entrance crosses over a sea of arms reaching out for help from the fiery depths of hell. Skulls, demon heads, and pop-cultural figures from the underworld—Hellraiser; Hellboy—are harbingers of what's to come.
Inside the temple, the decor swiftly moves from pristine white to fiery and bewildering. Murals depict swirling orange flames and demon faces, interspersed with Western idols such as Michael Jackson, Neo from The Matrix, Freddy Kruger, and a T-800 series Terminator. Images of nuclear warfare, terrorist attacks, and oil pumps hammer home the human impact on earth. The presence of Harry Potter, Superman, and Hello Kitty confuses the message somewhat, but the overall moral is clear: people are wicked.
Kositpipat's juxtaposition of traditional Buddhist imagery and pop culture has drawn criticism from the Thai government. Photography of the interior murals is prohibited, but visitors are welcome to purchase prints in the temple gift shop.
On May 5 of this year, a 6.3-magnitude earthquake struck Mae Lao, located 17 miles southwest of Chiang Rai. Wat Rong Khun sustained significant damage, and Kositpipat initially declared that the temple would have to be demolished. Subsequent evaluations, however, have found that the cracked pillars, damaged murals, and broken spire can be repaired. The restoration process is expected to take about two years. Travelers can still visit the temple, but may not be allowed inside depending on the work being undertaken at the time.
The Accidental Mummy Crypt at St. Michan's Church, Dublin
Venture down into the dark, musty stone vaults beneath St. Michan's Church in Dublin and you'll encounter an unusual sight: a collection of accidental mummies.
Most of the well-preserved bodies belong to Dubliners who lived during the 17th, 18th, and 19th centuries. The crypt's dry air and limestone walls have kept their desiccated skin intact, even as their wooden coffins have begun to crumble. Some of the coffin lids have caved in compltely, while others have fractured enough to reveal an arm or leg. A thick layer of dust covers each body.
Advertisement

According to the legends told by tour guides, the mummies in the photo above are, from left, a nun, a man with one hand and both feet cut off—either as punishment for thievery or so he would fit into the coffin—and a woman of enigmatic origin. At the back, placed horizontally, is the six-foot-six body of a man who apparently fought in the Crusades. (Though how he managed to die during the Middle Ages and end up mummified in a Dublin crypt built in 1685 is a great mystery.)
The Crusader, as this mummy with a dubious backstory has come to be known, is something of a talisman these days. Visitors to the St Michan's crypts are invited to touch one of the desiccated fingers on his outstretched right hand for good luck. If you have a whisper-soft grip and a delicate approach, you may shake his hand.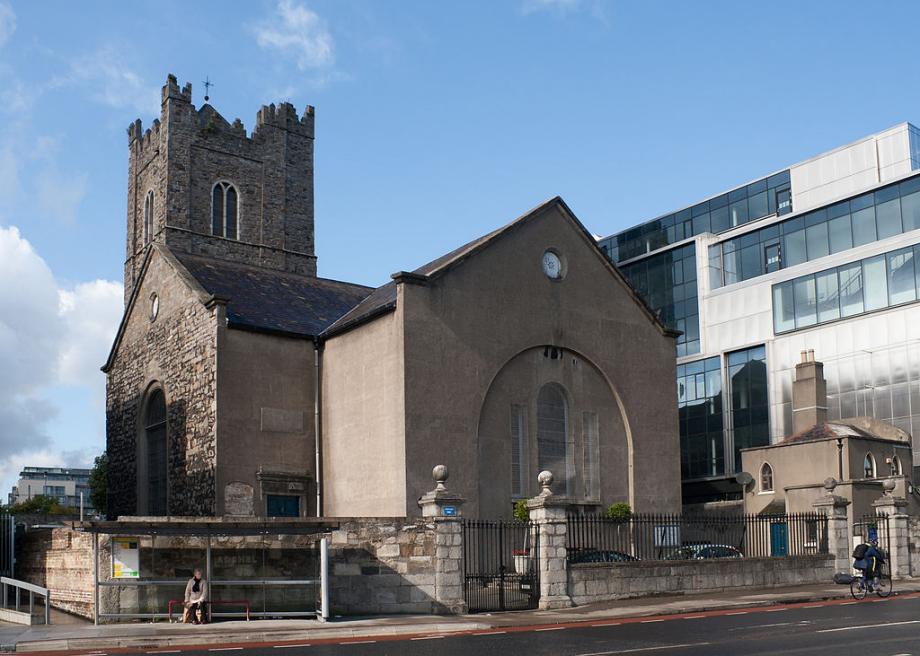 Hundertwasser, the Architect Who Made Toilets and Treatment Plants Adorable
In Osaka, Japan, is a waste treatment plant that is a lot more Looney Tunes than your average incineration facility. Its wavy lines, haphazardly placed, mismatched windows, and bursts of clashing color are all expressions of an overriding architectural philosophy: that human misery is the result of straight lines.
Friedensreich Hundertwasser was an Austrian-born artist-turned-architect. Born Friedrich Stowasser, he changed his name to Friedensreich Regentag Dunkelbunt Hundertwasser (translation: "Peace-Kingdom Rainy-Day Darkly-Multicolored Hundred-Water.")
Advertisement

Hundertwasser wrote a series of manifestos beginning in 1958, in which he reacted against what he believed to be the soul-stifling uniformity of Bauhaus architecture. Instead of rational, standardized designs, he advocated an approach that saw buildings as growing, changing structures that incorporate the natural features of the surrounding landscape. Many of his creations incorporate greenery, which grows alongside, on top of, and within the buildings.
Hundertwasser's residential, industrial, and commercial buildings—located in Austria, Germany, Japan, the Netherlands, Switzerland, and at a Napa Valley winery—are irregularly shaped creations with boldly colored tile mosaics, pottery, golden domes, undulating floors, and tilting walls. The Kawakawa public toilet building in New Zealand, built in 1998, was Hundertwasser's last major project before his death in 2000.
Turda Salt Mine, for Summer Fun Without the Sun
If you adore the leisure activities of summer but can't bear to spend time in the bright light and hot sun, there is an obvious solution: head to a Transylvanian salt mine to play minigolf and ride paddle boats.
Excavated by hand and machine over hundreds of years, Turda Salt Mine in Romania is now a subterranean fairground-cum-health-spa. After operating as a mine from the Roman Empire until 1932, Salina Turda closed for 60 years, reopening to the public in 1992.
Advertisement

The current attractions in the 260-by-130-foot space include a Ferris wheel, biliard tables, a minigolf course, ping pong, a bowling alley, and an underground lake with paddle boats. A 180-seat amphitheater hosts th occasional concert. To offset the darkness, bright lights hang vertically on strings from the 160-foot ceiling, illuminating dripping stalactites with a blue-tinged glow.
The temperature at Turda is a steady 53 degrees Fahrenheit year-round, with around 80 percent humidity. The conditions are perfect for sun haters—like the traditional residents of Transylvania—but also optimum for halotherapy, an alternative health treatment in which people with respiratory problems spend time in humid, salt-infused air.
The Lost Gardens of Heligan, Now Back in Bloom
In the southwest English county of Cornwall, just outside the fishing village of Mevagissey, is a sprawling set of gardens that has bloomed back to life after being abandoned for 75 years.
The Lost Gardens of Heligan lie on an estate that has been owned by Cornwall's Tremayne family since the late 16th century. Over the ensuing generations, the more horticulturally inclined Tremayne squires developed gardens on the 200 acres of land surrounding the family home. Melons and grapes grew in the Victorian glasshouses, rhododendrons blossomed to giant proportions, and a section designated "the jungle" teemed with untamed greenery.
Advertisement

All of this splendor required a lot of maintenance, which suited the wealthy Tremayne family just fine—they kept a team of gardeners on staff to keep their grounds in the majestic condition to which they'd become accustomed.
Then came the Great War. Priorities shifted dramatically. The fit, young men who tended the grounds had to put down their rakes and pick up rifles to defend the British Empire. Heligan House transformed into a convalescent hospital for wounded soldiers. The gardens fell into neglect, and the Tremaynes leased out their home until 1970, when it was converted into apartments and sold.
In 1990, Tremayne descendent John Willis introduced the dilapidated gardens to British businessman Tim Smit, creator of a biome eco-climate experiment known as the Eden Project. In a tiny room, buried under a fallen corner of one of the walled gardens, they found a list of signatures dated August 1914. The Heligan gardeners had come to this place to write their names before leaving to fight in the war. Most never returned.
The discovery sparked a massive restoration project, aimed at bringing the gardens back to life in honor of those who tended to them before giving their lives to war. The restored Lost Gardens of Heligan opened to the public in April 1992 and continue to flourish, their mix of manicured Victoriana and wild jungle creating a timeless place of escape.
The Special and Mysterious Seals of Siberia's Lake Baikal
Lake Baikal in southern Siberia is home to 80,000 seals. They spend their days zooming through the water in pursuit of delicious fish, crowding onto rocks to sun themselves, and, when winter hits, maintaining breathing holes in the three-foot-thick layer of ice that coats the lake.
It's all very charming and harmonious apart from one vexing matter: no-one can explain how the seals came to live in the lake.
Advertisement

Overwhelmingly, seals are marine mammals. Of the 33 existing species of pinnipeds—the taxonomic group that includes seals, sea lions, and walruses—only one lives exclusively in freshwater: the Baikal seal.
At an average of 150 pounds and just over four feet long, Baikals are among the more petite seal species. German naturalist Johann Friedrich Gmelin first dubbed the animals "Baikal seals" in 1788, but it was something of a name-and-run affair—he was under the impression that they were a variant of the standard harbor seal and therefore paid them little attention.
What the write-up failed to include was British zoologist Hose's seal obtainment method. The doctor had stopped at the lake and convinced local fisherman to haul a trio of seals ashore. He then, according to Judith King's 1983 book, Seals of the World, climbed aboard his scheduled trans-Siberian train, and shoved the still-living seals onto the luggage rack. When two of the animals died during the journey, Hose performed dissections in his train car, to the annoyance of his fellow passengers.
The 1909 Seamen's Journal article said the seals in Lake Baikal, the largest freshwater lake in the world, "suggest that in former times an arm of the sea stretched from the Arctic Ocean to the site of the present lake. An elevation of the land then cut off a salt water lake containing seals and salmon, and in the course of ages this freshened to the present lake."
It's a possibility that still ranks highly on the "What Happened Here?" list. But with Lake Baikal clocking in at an estimated 30 million years old—and currently sitting hundreds of miles from any ocean—the question of exactly how the Baikal seals came to be remains a long, long-standing mystery.