The Birth of the Baby Hatch, for Surrendering Infants Safely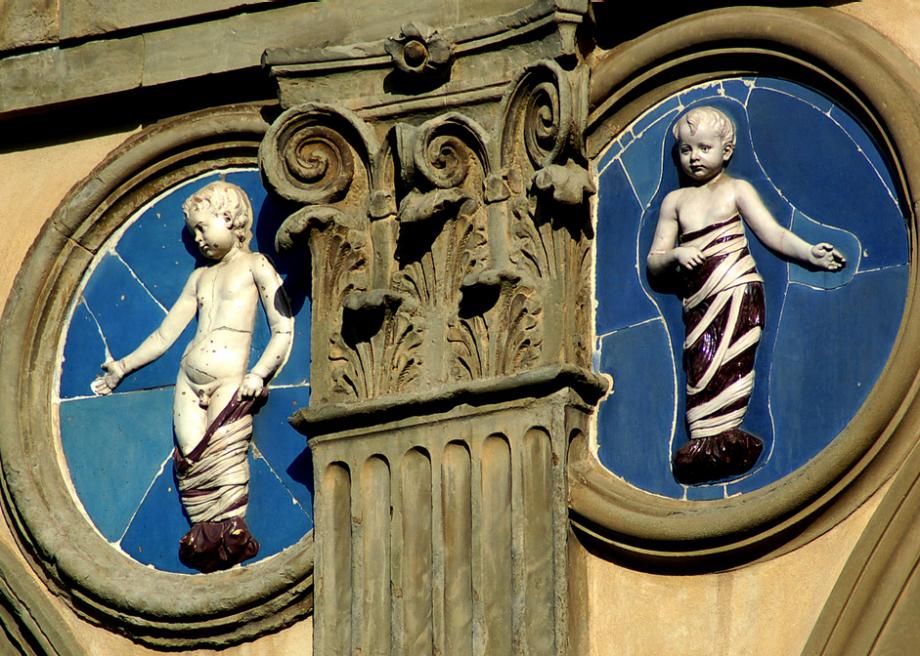 At Piazza SS. Annunziata in Florence stands a renaissance building whose arches are adorned with reliefs of swaddled infants. This is the Ospedale degli Innocenti, or Hospital of the Innocents, an institution devoted to caring for abandoned children.
Established in 1445, the hospital took in babies, nursed them—or sent them to a wet nurse in the countryside—and weaned them. When they were old enough, the children of Ospedale degli Innocenti received an education: reading and writing for the boys, and sewing and cooking for the girls. Once they were trained up, children could be placed in a foster family, sent to work, married off, or dispatched to a nunnery.
If you visit the hospital, you'll see a pair of cherubic painted babies on the wall to the side of the main door. Their gazes are directed below, to a square hatch with a grate over it. From 1660 until the 1870s, this hatch held a foundling wheel: a sort of lazy susan for surrendered babies. The idea behind this hatch was that mothers incapable of caring for their infant children could use it to drop babies off at the hospital without having to show their faces or answer invasive questions.
Mothers would place the baby in the hatch, turn the wheel, and watch as the child rotated away from the outside world and into the hospital, where an attendant would receive them. Some mothers left keepsakes or talismans with the child, threaded onto ribbons and placed around the neck.
Though the foundling wheel at the Ospedale degli Innocenti has long been boarded up, baby hatches are still used around the world as a means of protecting mothers' anonymity and, in some countries, allowing them to avoid the criminal charge of child abandonment.
In South Africa, a Johannesburg orphanage has had a baby hatch marked "Door of Hope" in one of its walls since 1999. The Czech Republic established "BabyBoxes" in 2005, while Pakistan's 300 Edhi Foundation medical centers offer "jhoolas": hanging baby cradles with bells that can be rung when an infant is placed inside.