Giant Rock and the Integratron: Tales of an Eccentric Loner and a UFO Enthusiast
Giant Rock is accurately named. At seven stories tall, it is giant. It is also a rock. But beneath its simple moniker lie strange tales of an eccentric loner, extraterrestrial encounters, and accidental explosions.
In the 1930s, a curmudgeonly German fellow named Frank Critzer arrived in California to embark on a career as a prospector. While filling his car at a garage in Santa Monica he became acquainted with George Van Tassel, an aircraft mechanic who would later claim that an alien took him aboard a Venusian space ship and told him how to build a time machine.
Critzer and Van Tassel's mutual eccentricities melded and instantly formed the foundation of a solid friendship. Van Tassel loaned Critzer money to buy mining equipment, and Critzer promised Van Tassel a cut of the profits should he strike gold. Gassed up and cashed up, the determined German drove off into the Mojave desert.
A year later, Van Tassel visited Landers, where Critzer had settled. There Van Tassel discovered that his chum was literally living under a rock. The prospector had not found any gold deposits, but he did manage to dig himself a 400-square-foot home beneath Giant Rock. Locals found this turn of events a smidge peculiar, but Critzer's habit of wielding a shotgun at passers by usually silenced any complaints.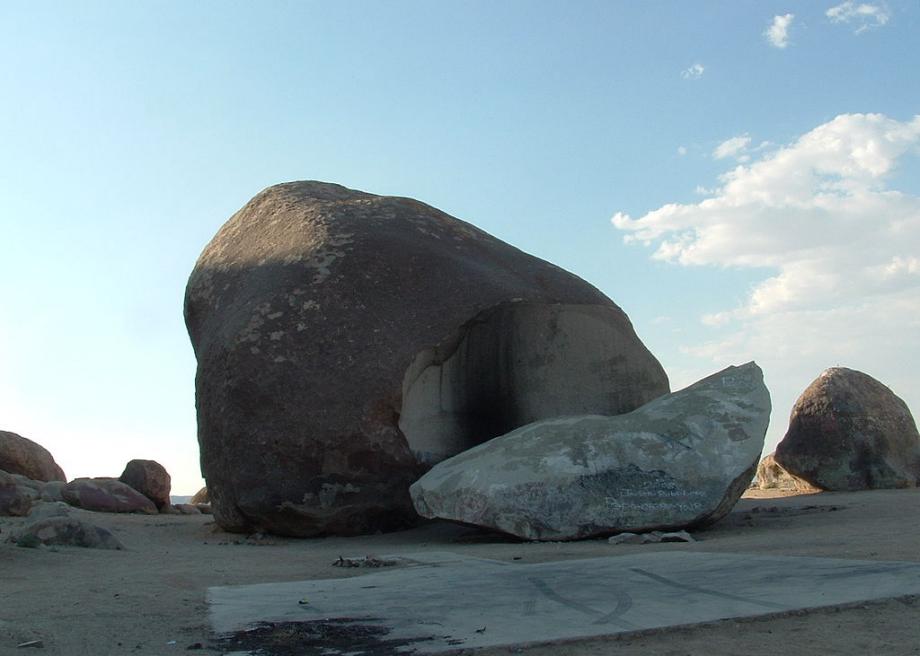 Critzer remained ensconced in his subterranean home until the increasingly heinous machinations of World War II put local law enforcement on alert for shifty-looking Germans. Due to his Teutonic heritage, cantankerous nature, and penchant for short-wave radio, Critzer attracted suspicion. Police raided his Giant Rock home in 1942. Though the exact events are a mystery, legend holds that Critzer barricaded himself in his sand cave, after which the cops lobbed a tear gas canister inside, accidentally igniting a store of explosives and killing Critzer. It was an unfortunate mishap, for the man was not a German spy — merely a German grump.
Moved by his friend's untimely end, Van Tassel returned to Giant Rock and opened an airfield and cafe. In 1953 he began hosting meditation meetings in Critzer's old home. According to Van Tassel, these weekly sessions led him to his encounter with the kindly Venusian aboard a UFO. Having received instructions on how to build a time machine and regenerate human tissues, Van Tassel devoted himself to building a human rejuvenation lab called the Integratron. To raise money for the project, he began hosting UFO conventions at Giant Rock. Thousands of believers flocked to the site each year to swap stories of close encounters. The conventions continued for over two decades.
Van Tassel died in 1978, a few weeks before his followers officially opened the Integratron. It's still operating, but with a pared-back premise — instead of offering time travel and eternal youth, the domed building hosts "sound baths," during which participants lie in a circle and listen to a facilitator strike quartz bowls with a mallet.
Giant Rock is still there, too, albeit scrawled with lewd graffiti and surrounded by trash. A chunk of the rock split off from the bottom in 2000, revealing a lovely white granite interior — the whole thing looks like a giant potato with a wedge cut out. The UFO enthusiasts are gone, replaced by teenagers on quad bikes and metal heads who appear at night to set off fireworks and drink beer. Frank Critzer would hate it, but then he hated almost everything.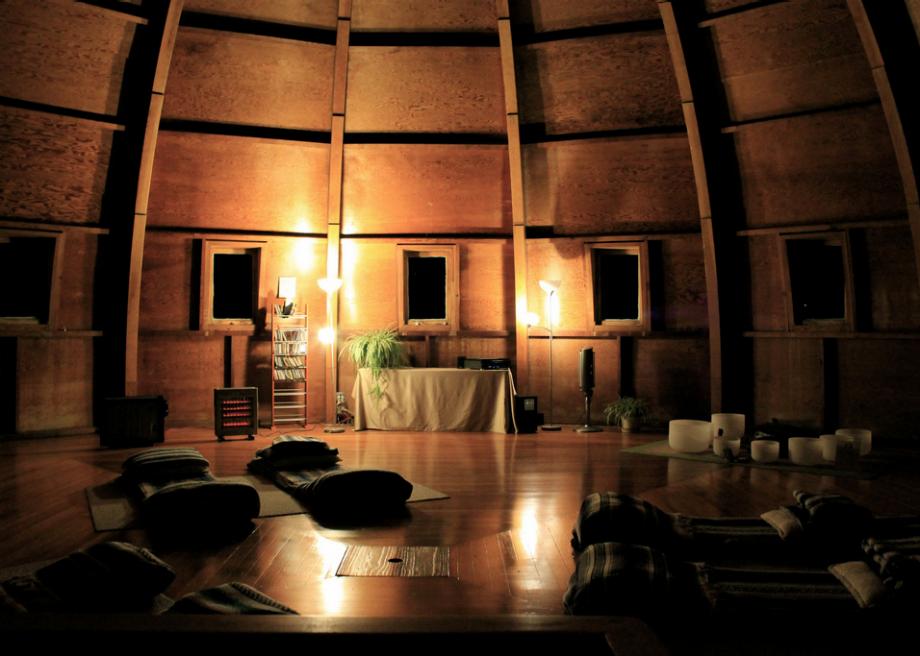 More geological oddities: