Prora Resort: Beach Vacations Done the Third Reich Way
An imposing, austere row of buildings stretches for almost three miles along the east coast of Rügen, a German island in the Baltic Sea. Blocky and bleak, their unadorned design suggests a prison. But these buildings were meant for leisure: they form part of a Nazi-built seaside resort.
In 1933, the Third Reich established Kraft durch Freude, or "Strength Through Joy," an organization devoted to managing the free time of the working German. The KdF arranged a wealth of enticing leisure activities, such as cruises, ski trips, invigorating hikes, and beach vacations. These pursuits were offered to all Germans, regardless of class, with the aim of inspiring gratitude toward — and preventing seditious activities against — the state.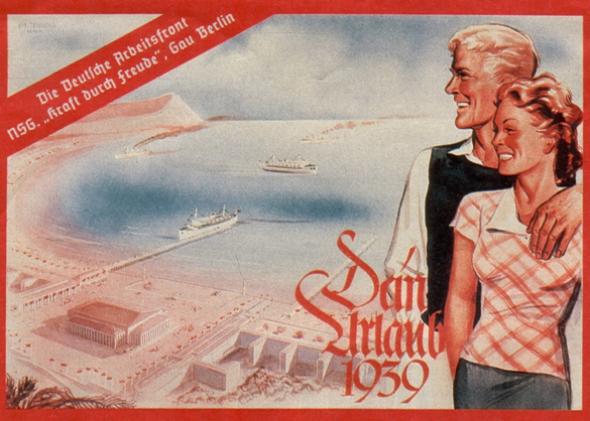 One of Hitler's grander plans for the KdF was to build five colossal beachside resorts, each capable of housing 20,000 vacationing workers. Only one was ever built: Prora. In 1936, construction began on Prora, a complex on Rügen incorporating housing units, a festival square, restaurants, cinemas, swimming pools, and an assembly hall. Each 16- by 8-foot resort room faced the beach and was to have two beds, a wardrobe, and a sink. Communal bathrooms served each floor.
After three years of construction, Prora was close to opening when the dawn of World War II ended the dream. With construction materials and manpower diverted to the war effort, work on Prora stopped. The colossal complex did see some action during the conflict — refugees from the bombing of Hamburg lived there in 1944, and the site was used briefly as a military hospital and training center. Post-war, the East German army made sporadic use of the facilities, but by the 1990s Prora was deserted.
Now there is the question of what to do with this colossal reminder of Nazi Germany. Prora's history makes it both hard to repurpose and difficult to demolish — luxury condos have been proposed, but remain undeveloped.
One building, however, has been converted into a 400-bed youth hostel. While acknowledging that the site has a "checkered history," the Prora Youth Hostel's website promises a "contemporary, casual, multicultural" experience: "Here you can hear the sound of the sea and meet like-minded people from around the world."
Other Third Reich relics:
View
Prora
in a larger map