One Man's Dream-Inspired, Full-Sized Replica of Noah's Ark
Twenty-two years ago, Johan Huibers had a vivid dream that his native Netherlands was awash in a flood of Biblical proportions. When he woke, his mind held but a single thought: "I must build an ark."
Using the Book of Genesis as his blueprint, Huibers — a carpenter and avowed creationist — constructed a full-sized replica of Noah's Ark on the Marwede River in Dordrecht, just outside Rotterdam. Made from 21 transport barges and 12,000 Swedish pine trees, the vessel is 300 cubits long (around 430 feet). It opened to visitors in late 2012.
Of course, modern civic and economic requirements have necessitated a few design changes. The ark's CCTV cameras, elevator, restaurant, conference facilities, and theater are among the features not present in the Biblical version.
You won't find the fabled "two of every sort" menagerie inside, but there are some live birds, sheep, and bunnies in residence. The rest of the critters are made of plastic. Alongside them are mannequins of Noah, his sons, and their wives, as well as exhibits on the great flood.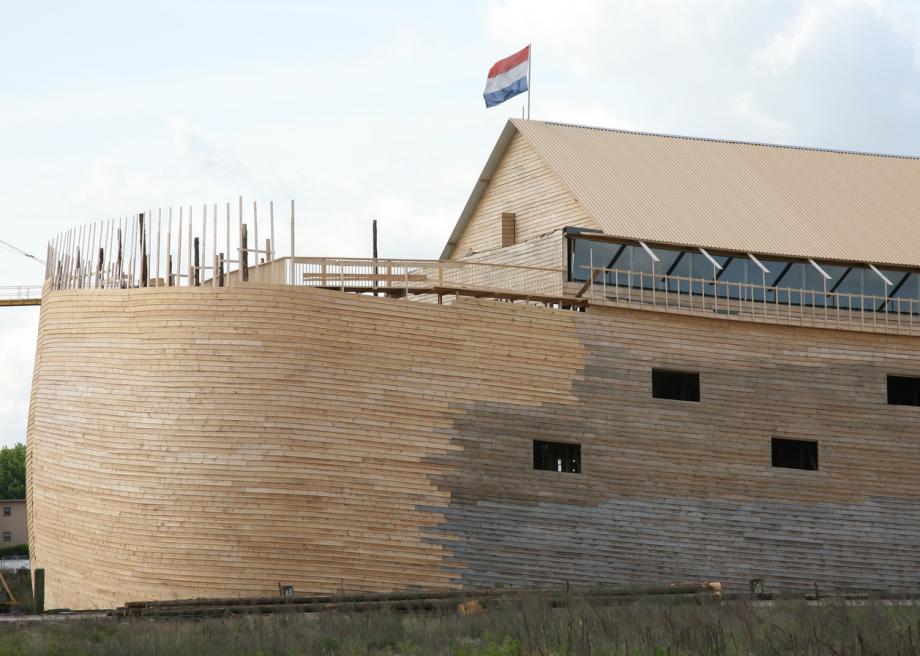 Other bemusing biblical attractions: