The Mothball Fleet: Aboard the Dying Ghost Ships of Suisun Bay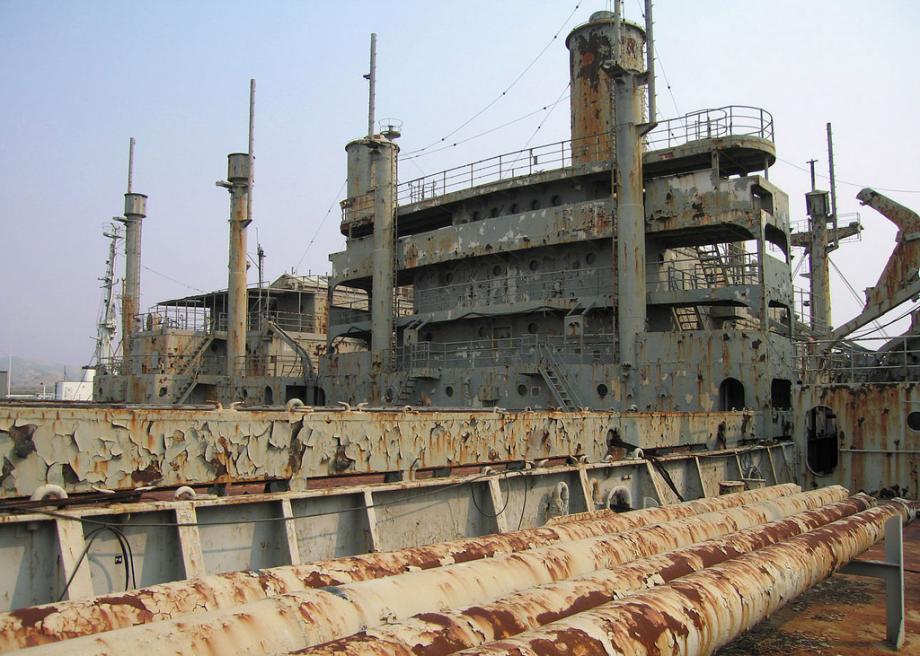 On the northwest side of Suisun Bay, just outside San Francisco, a fleet of ghost ships is slowly disappearing.
Known to locals as the Mothball Fleet, the collection of U.S. Navy and merchant reserve vessels has been in the bay since the end of World War II. At that time, thousands of surplus ships were allocated to a National Defense Reserve Fleet (NDRF), intended for deployment during military actions and national emergencies. In addition to Suisun Bay, fleets were moored at ports in Virginia, Texas, New York, North Carolina, Alabama, Oregon, and Washington.
At its peak during the Cold War, the Suisun Bay Reserve Fleet had about 400 ships. Today there are 10. The reason for the sharp decline is partly environmental: as the ships have settled into obsolescence, paint from the rusting surfaces has been flaking off, depositing toxins such as lead, copper, zinc, and barium into the bay.
In a few years, every ghost ship from the Mothball Fleet will be gone. The federal Maritime Administration has pledged to remove the last of the outdated ships by September 30, 2017, and is operating ahead of schedule. Most of the ships' final destination is a scrap yard in Texas, where they will be broken apart and recycled. In the meantime, the surfaces of the Suisun Bay ships must be cleaned every 90 days to prevent paint flakes from dropping into the water.
The Mothball Fleet is under surveillance and trespassing is strictly prohibited. Some daring explorers, however, have been unable to resist the urge to stow away with cameras in tow.