Stare into the Shocked Eyes of a Dissected Corpse at the Fragonard Museum
At the Fragonard Museum in the southeast of Paris, human fetuses dance a jig alongside a ten-legged sheep while a skinless Horseman of the Apocalypse looks on.
Founded in 1766 as a veterinary school with a private collection, the museum has rooms devoted to anatomy, physical abnormalities, articulated animal skeletons, and disease. However, by far the most striking room is the collection of écorchés, or "flayed figures" by Honoré Fragonard.
Fragonard was appointed by Louis XV as a professor at the first veterinary school in Lyon, and it was there that he began skinning and preserving animal, and later, human corpses. Though he intended for his écorchés to be used as educational tools, Fragonard arranged many of his figures into theatrical poses, creating eerie posthumous narratives. The Horseman of the Apocalypse, inspired by Albrecht Dürer's painting, is the most notable example -- a skinless corpse with dried, varnished muscles and unnerving glass eyes sits astride a similarly preserved horse caught mid-gallop, the thick arteries of its neck filled with red wax. Blue reins loop from the animal's mouth and over the rigid sinew of the rider's hands.
Fragonard worked in Lyon for six years before his flayed figures began frightening the townspeople. He was dismissed from the institution amid accusations of insanity. The public would not see the flayed figures until more than 200 years later, when the Fragonard museum opened in 1991.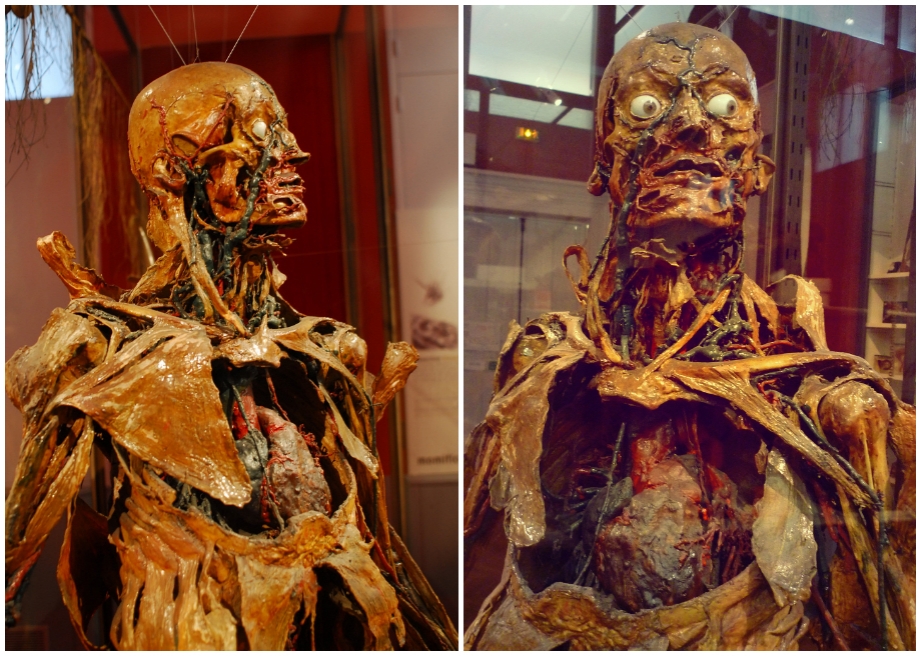 More astonishing and unnerving displays of human anatomy: