Nightly Border-Closing Between India and Pakistan Is an Elaborate Theater of Aggression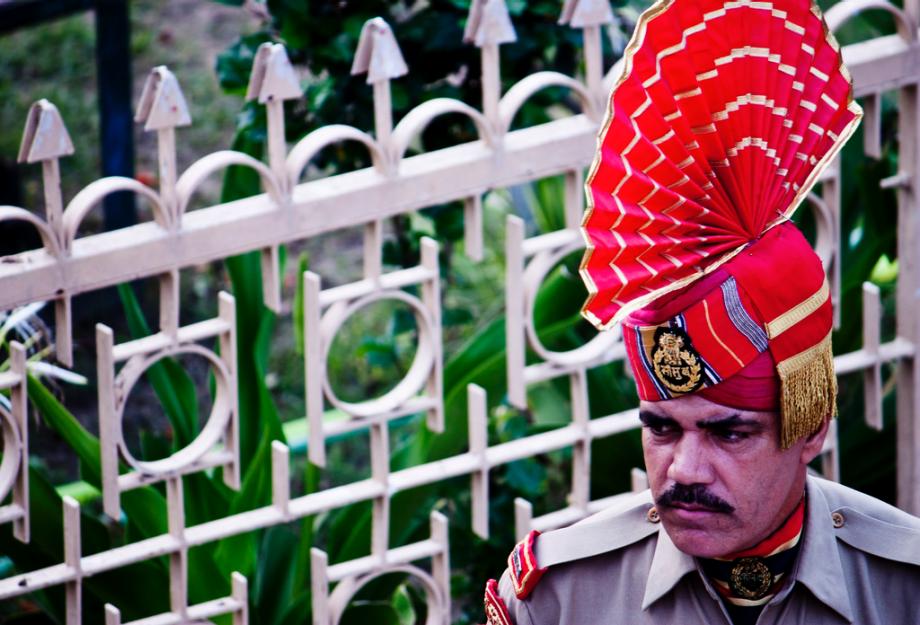 The line separating India and Pakistan runs straight through the middle of Wagah, a Punjab village home to the only road joining the two countries. It is here that soldiers from each side conduct a precisely choreographed daily border closing ceremony—a routine that combines flamboyant uniforms, fierce stares, and competitive high kicks.
Multiple wars and an ongoing dispute over land in the Kashmir region have created hostility between India and Pakistan—a hostility that finds its outlet in the aggressive dance moves of the border soldiers and the patriotic cheering of the daily crowds. The atmosphere is akin to a sporting match. Prior to the sunset ceremony, performers and visitors dance to traditional music pumped through loudspeakers on each side. As the anticipation builds, warm-up men with microphones rile up the flag-waving spectators in the bleachers.
The ceremony, performed since 1959, begins with a parade of soldiers on both sides of the border. Members of India's Border Security Force wear khaki uniforms with red fanned coxcombs on their turbans, while the Pakistan Rangers wear black uniforms with black coxcombs. In a region where the average male height is five-foot-five, every soldier is over six feet tall. They march in pairs with synchronized strides, their mustachioed faces dour through all the stomping and high-kicking.
At the border gates, the long-awaited confrontation occurs. The guards open each barrier simultaneously while keeping a stern eye on one another. National flags are lowered -- at exactly the same time, so that neither country can be accused of trying to "win"—after which an Indian and Pakistani guard shake hands rigidly before retreating from the border with more stomps and high kicks. For the hundreds of Indian and Pakistani spectators, the ceremony is a source of national pride and a cathartic expression of built-up tension between the often clashing countries.