Elizabeth Banks' Old-School Streak
The comic actress opens up about her biggest influences and answers your questions.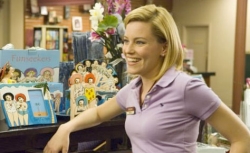 But she's got an old-school streak in her that includes family roots in Pittsfield, Mass., and a deep appreciation for Rosalind Russell.
As her latest film, The Hunger Games, hit theaters, Banks sat down with Jacob Weisberg to answer his and Slate readers' questions, including why she isn't holding her breath for a sequel to Role Models and why she's mistaken for Parker Posey.