Why MSNBC Is Not Fox News for Liberals
Rachel Maddow on how the Republican Party stands and salutes Roger Ailes and Fox News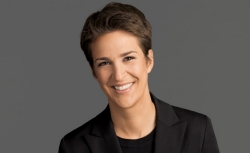 Rachel Maddow doesn't shy away from the liberal label. But she says there's an important distinction between what she and her MSNBC colleagues do and how their counterparts operate at Fox News. On-air personalities at MSNBC, Maddow says, don't take direction or follow talking points from the network.
The primetime MSNBC host and political commentator recently sat down for a lengthy interview with Slate's Jacob Weisberg. Here's part 2 from the interview, the latest in our series "Conversations With Slate."
You can watch part 1 here, and look for two more excerpts of the interview in the days ahead, along with an audio podcast of the entire conversation.












TODAY IN SLATE
Medical Examiner
Here's Where We Stand With Ebola
Even experienced international disaster responders are shocked at how bad it's gotten.