The Biggest Trump Subreddit Is Focused on Kate Steinle, Not Michael Flynn
How r/The_Donald is handling Friday's news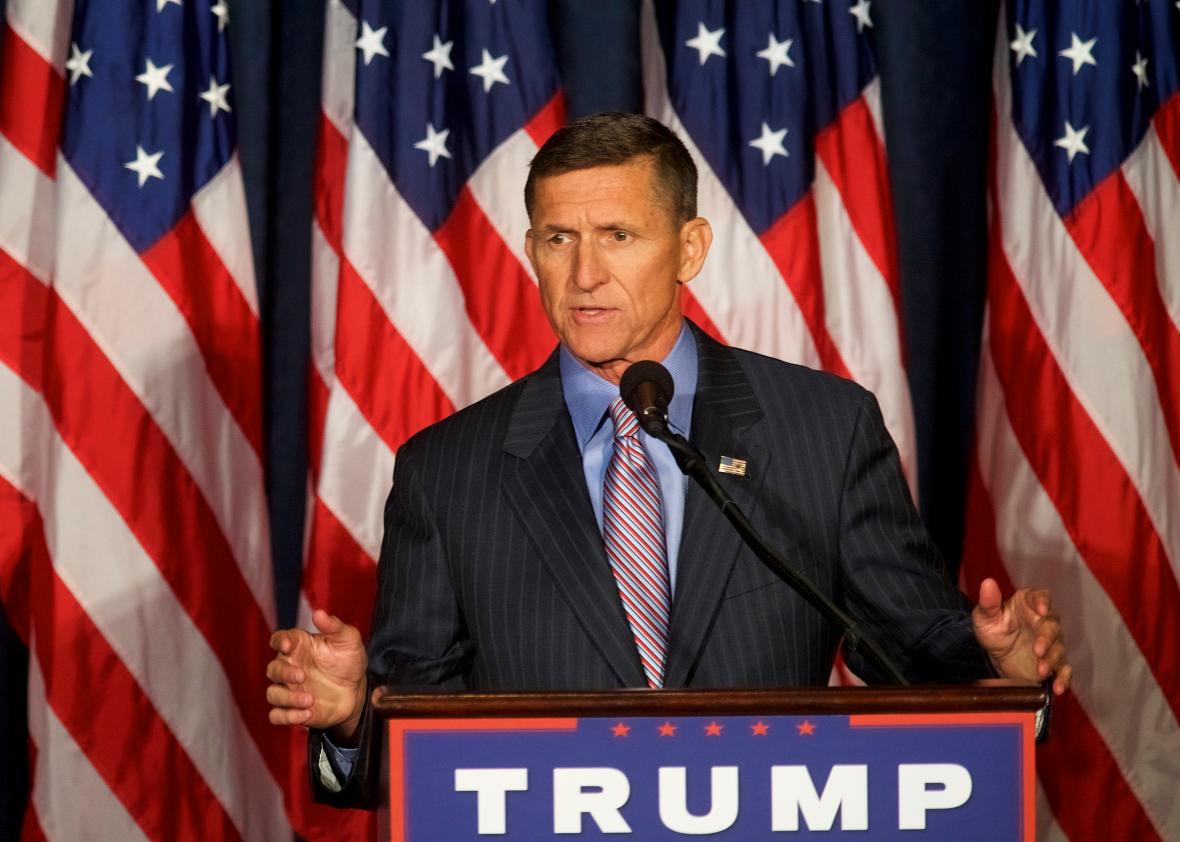 For commenters on r/The_Donald, a subreddit home to some of President Trump's most outspoken online supporters, the news that Michael Flynn pleaded guilty Friday to lying to FBI agents in the Russia investigation is a red herring.
Though the media have been focused on the plea and its implications for the White House, the president's Reddit fans are largely preoccupied with a San Francisco jury's decision on Thursday to acquit Jose Zarate of most of the charges associated with the fatal shooting of Kate Steinle.
Trump had reviled Zarate, an undocumented immigrant, during the presidential race, using the shooter's multiple prior deportations and nonviolent felony convictions as proof that U.S. border policies were not stringent enough. (A Slate cover story from August focused on how Trump and his allies had twisted the facts of the shooting to stoke America's xenophobia.) The jury's verdict largely sided with the defense, which argued that Zarate had accidentally shot the gun and that the bullet had ricocheted off the concrete before striking Steinle. Zarate was acquitted of the most serious charges, including murder and involuntary manslaughter. He was found guilty of being a felon in possession of a firearm.
Trump was quick to express his disdain for the outcome of the trial:
A disgraceful verdict in the Kate Steinle case! No wonder the people of our Country are so angry with Illegal Immigration.

— Donald J. Trump (@realDonaldTrump) December 1, 2017
The top posts on r/The_Donald make up a bulletin board of outrage in line with the president's tweet, with many lamenting the collapse of "law and order" and blasting San Francisco's status as a sanctuary city. There's also a campaign to name Trump's oft-promised wall after the victim, associated with the hashtag "#kateswall". One Redditor further wrote, " 'Steinle Memorial Wall' has a good ring to it. Make it the section of wall that cuts off Commiefornia from the rest of the country." As of Friday afternoon, 21 of the top posts were about Steinle; none were about Flynn, though eight in the "hot" section pertained to his plea.
The popular posts that do mention Flynn are rife with whataboutisms redirecting the conversation to Clinton, Obama, and, most notably, Zarate. Indeed, posters see the fact that Flynn will plead guilty while Zarate was acquitted of most of his charges as a perverse turn of events. A popular post on the subreddit reads, "**Flynn Guilty but 7 time Murdering Felon Not Guilty**."
If Friday's r/The_Donald threads are any indication, Kate Steinle's death will continue to be a focal point for this contingent of the right, while Flynn's case will merely be a springboard for further shaming enemies on the left.