The Thermostat Wars
How Honeywell could beat popular upstart Nest.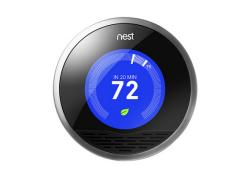 One morning last fall, Pat Tessier, a marketing director at the electronics giant Honeywell, stopped by my house to show me the company's high-end thermostat, the Prestige HD. It was an unusual visit. Tessier had flown in from Minnesota, and he'd brought along a P.R. rep, two installation guys, and a big batch of Honeywell products. On the plane over, he had written a one-page dossier documenting all the features that made Honeywell's thermostat the best on the market. Unprepared for the length and formality of the meeting, I—as usual—was dressed in a pajama shirt and jeans. When I told Tessier that I had only about a half hour to meet, he looked crestfallen. "It'll take me a half hour just to tell you about the main unit," he said.
Tessier and his crew ended up staying for an hour and a half. The installation guys pulled out my current thermostat, mounted an electrical device in my furnace closet, put a weather sensor in my backyard, and connected a wireless remote control and router bridge. Meanwhile Tessier regaled me with details about every add-on that Honeywell makes for the Prestige. I remember thinking, Man, this guy sure knows a lot about thermostats. Also: This thermostat actually does seem pretty great. And finally: Damn, these guys are gonna get killed.
The thermostat business is getting ugly. I understand that sounds crazy, but it's true. Late last year Tony Fadell, the guy who created the iPod at Apple, launched Nest, a new company that aims to reinvent household devices. Nest's first product is a beautiful, easy-to-use, $249 "learning thermostat." It launched to rave reviews, and sold out instantly. I installed one and tried it for a few weeks last year. In a piece in the New York Times, I called Nest my favorite thermostat out of several I'd tried, including Honeywell's Prestige. In Slate, I called it one of my favorite technologies of 2011. In retrospect it's clear why Honeywell put on a full-court press to show me all the ways its thermostat was superior to the Nest. For the first time in years, the thermostat industry was getting covered by the press—but in every story about the Nest, Honeywell was described as a sitting duck.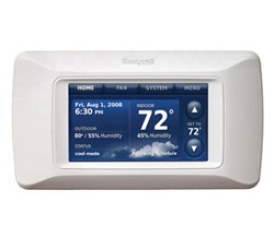 On Monday, the duck struck back. Honeywell filed a wide-ranging patent infringement suit against Nest, alleging that the startup used seven different Honeywell inventions. It seems likely that a well-funded startup like Nest would have thoroughly researched and prepared for this kind of lawsuit, but looking over the patents in question, some of Nest's technology does look similar to Honeywell's. One Honeywell patent is for a thermostat with a "rotatable selector," meaning a dial that you turn to control the device—exactly what Nest is. Another covers a thermostat that tells you how long it will take for your house to get to the desired temperature, which is one of Nest's best features. Another advantage of the Nest is that, unlike the Prestige, it doesn't need professional installation. It can plug into most thermostat setups and automatically "trickle charge" power from the wires connected to your furnace or air conditioner. It's a brilliant idea—and one that Honeywell apparently patented in 2009.
The Honeywell v. Nest lawsuit is being justifiably criticized as another black mark on our broken patent system. If Honeywell invented all these cool features, why didn't it make something of them? Last year an executive told GigaOm that Honeywell long ago created a thermostat that learned user's preferences the way Nest does, but it abandoned that project because it believed people wanted to program their thermostats. (It's true—programming my thermostat is my favorite activity in the world, right after taking out the garbage, shaving, and researching nanny taxes!)
Honeywell seems to have patented a bunch of great ideas in order to just sit on them. The sad thing is that if it tried, Honeywell seems capable of building a thermostat that's every bit as wonderful as the Nest. From my testing, I found that Honeywell really does make great home heating and cooling equipment. If it competed in the marketplace rather than in the courts, I suspect it could really turn up the heat on Nest. (Sorry, couldn't resist.)