Will Robots Steal Your Job?
We wrote a computer program that replicates Jason Kottke. How does Robottke compare to the Web's best link blogger?
Ryan Vogelsong worked an impressive seven innings and Mike Fontenot hit a triple to put the Giants ahead in the third as San Francisco slipped past Colorado, 3-1.

With the game scoreless in the bottom of the third, the Giants grabbed the lead when Fontenot drove in Andres Torres and Vogelsong after hitting a triple off starter Jhoulys Chacin.

Vogelsong's record improved to 13-7 on the year after a top-notch outing in which he surrendered no runs on four hits with four strikeouts and no walks. Santiago Casilla worked 2/3 of an inning to pick up the save, his sixth of the season, allowing no runs on no hits while punching out one and walking no one. Chacin got the loss (11-14) and gave up two runs on eight hits with three strikeouts and one walk over seven innings.
That story was written by a computer. Everything on FriscoFan is written by machines. The site was created by a company called Automated Insights (formerly known as StatSheet), which runs nearly 400 other sites like FriscoFan, each one devoted to covering Major League Baseball or NCAA basketball teams. Automated Insights generates stories just as a human hack would. It starts by looking at the stats. Then, it comes up with the perfect tone—if a hometown favorite was defeated, the "writer" will sound crestfallen. Next, the machine consults a huge database of phrases in search of words that match the story told by the numbers. If one team beats another soundly, you get something like this headline: "Giants Batter Rockies."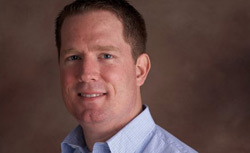 Automated Insight's stories are far from original, but they are also not obviously robotic. (I've read a lot of text written by humans that's not nearly so coherent.) And what the machines lack in originality, they make up for in price and speed. Robbie Allen, the founder and CEO of Automated Insights, hires a handful writers who spend their days coming up with phrases like "top-notch outing" to add to the library. Through automation, he can turn their efforts into an amazing number of articles. "Last year during college basketball season, we generated 64,000 stories," Allen says. "I did a calculation and it would have taken 100 writers writing four stories a day to get similar results."
It's not just that Automated Insights has managed to replace human writers—it's managed to surpass them. Because human sportswriters are expensive, you'd never pay one to spend his time following a single small team that doesn't have a large following. Automated Insights can follow every team. And when it branches out to other kinds of content later this year—it just received a pile of funding to do so—it will be able to create narratives for every company's stock market fluctuations, or blurbs about every weather event in every small town in America. Automated Insight's main competitor, a firm called Narrative Science, has similarly broad ambitions.
And yet there's something missing in Allen's approach: creativity. While I recognize that there are algorithms that power my work, my columns are also peppered with stuff computers can't master—amazing wordplay, irresistible arguments, cutting wit. Two of my most popular Slate articles this year—a rant about people who erroneously use two spaces after a period, and a rant about the snobs who write letters to NPR—weren't inspired by my rigorous daily Web searching. They just jumped into my mind out of the blue. (This happens to me at least once a week in the shower.)
Could a computer have come upon these topics? Not today. If we define human creativity as a kind of invention meant to please other human beings, machines would seem ill-suited for the task—computers are good at copying, not at coming up with wholly new things. A piece of software can insert the phrase "top-notch outing" in an article. It can't decide that "top-notch outing" is a lame sportswriting chestnut and come up with another phrase instead.
None of the experts on computers and language that I consulted could tell me how computers would make the leap from mimicry to creativity. But they did point me to recent developments that show a few small steps in that direction. A team at Google has made some progress on teaching a machine to translate poetry, a task that's difficult even for human translators. Chloe Kiddon and Yuriy Brun, researchers at the University of Washington, meanwhile, taught a machine to recognize when it would be correct to say, "That's what she said!"
Looking at what computers can do now and how fast they're progressing, Automated Insight's Allen is convinced that the machines can't be stopped. "Because it's algorithmic, it can only get better over time," he says. "Within five years, our writing will be as good as the best sportswriters out there. And it's going to be difficult for humans to compete." It's really hard for me to imagine that Allen will be right. And yet, five years is a really long time for computers. I'm not sure it would be smart to bet against him.