Published by

A Public Drinking Fountain for the Digital Age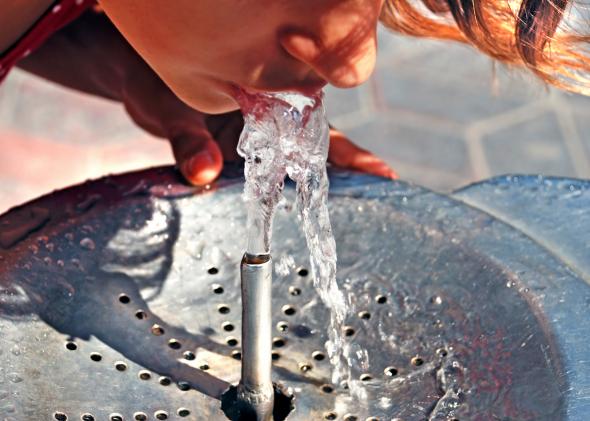 Being smarter about water is becoming more and more urgent: In the next forty years, the World Health Organization predicts that two thirds of the world will face severe water shortages. From leaky pipes wasting water to disposable plastic bottles sucking up precious fossil fuels, our status quo is more of a strain on the environment than it needs to be. And with climate change on the horizon, if we don't get smarter about how we distribute the most basic necessity of life, we're going to be in trouble. Thankfully there's a new wave of social innovators rethinking our utilities.

The Israeli start-up Woosh Water is proving there's a better way to distribute water in urban centers than through plastic bottles you buy at the convenience store. Those plastic water bottles take over a thousand years to biodegrade and demand a huge amount of fossil fuels to manufacture in the first place—in the U.S. alone, water bottle manufacturing uses over 17 million barrels of oil each year. Striving for a greener solution, Woosh has designed a public drinking fountain for the digital age.
In Tel Aviv, Woosh has introduced several of their high-tech fountains in busy pedestrian areas, where thirsty city-goers can fill up their own re-usable containers with clean, cold water. The stations also clean and rinse bottles and other containers. The company introduced their network of water stations in the city as a pilot project in July 2013, and since then, they've already saved more than 100,000 plastic bottles and reduced the city's carbon footprint by more than 200,000 kilograms.
The water comes from the city's grid, and Woosh chills and filters it before distributing. The service is free in Tel Aviv, though it does require users to sign-up. Itay Tayas-Zamir, the water engineer who designed Woosh, explains that having users register is meant to encourage them to use the water responsibly. Woosh is hoping to expand to other cities in Israel and other countries where local partnerships would determine if it could remain a free service.
Woosh keeps track of not only how many bottles it has saved, but also how many people have registered to use their fountains. As of today, they know that 17,605 individuals have filled up their water bottles on the go. Part of being smarter about how we distribute water depends on knowing how we're using it, and this is where new technologies are proving indispensable. Leaders in such social innovations are incorporating real-time monitoring and data analysis into their new solutions.
Data analysis is one way technology can work to address these inefficiencies and ultimately conserve our most precious resource. New solutions include sensors that can monitor pipes, filtration systems, pumps, and software that can translate the raw data in a way that empowers utility companies to make smarter decisions. The Japanese conglomerate Hitachi is at the forefront of offering these new technologies to address these problems.
Hitachi Consulting's partnership with OSIsoft provides utility companies with support services that consolidate the real-time monitoring of pipes, pumps, and pressure-flow meters. In addition to keeping utility companies informed of any leaks or breaks in their lines, Hitachi's predictive analytics also crunch data to help avoid infrastructural problems before they even occur.
The results are more efficient infrastructure and, consequently, less wasted water. Hitachi America, Ltd. has worked with the state of California to design one of the largest pumps in the world, to replace the older pump that was being used to transport water over the Tehachapi Mountains into Southern California. The result has increased efficiency rates from 3.3 percent to 93.3 percent. In addition, Hitachi's work with Severn Trent Water, a UK-based company that provides water to 4.2 million homes and businesses across the Midlands and mid-Wales, won an Oracle Eco-Enterprise Innovation Award back in 2012.
Hitachi's accomplishments have made them stand out, but they aren't the only ones exploring this niche of utility innovation. The growing demand for data is encouraging a diversity of other companies to test the waters. U.S.-based Mueller Water Products Inc., which used to sell just the hardware for water infrastructure such as pumps and valves, is now foraying into software development, mixing the two to offer what they call "integrated solutions."
As water becomes increasingly scarce, we're becoming thirstier for new ideas and creative solutions. The information these companies are providing is especially valuable, not just for spotlighting broken pipes and water leaks, but also for illustrating a bigger picture of water usage and the future thereof. With this information, we need to think about how our water infrastructure could be radically different and better. We don't really have a choice.
To read more about Hitachi's Social Innovation, click here.