It's Your Moment, Too
Like Instagram, Twitter is following Snapchat's lead with a new tool for telling stories. Is that really what it's missing?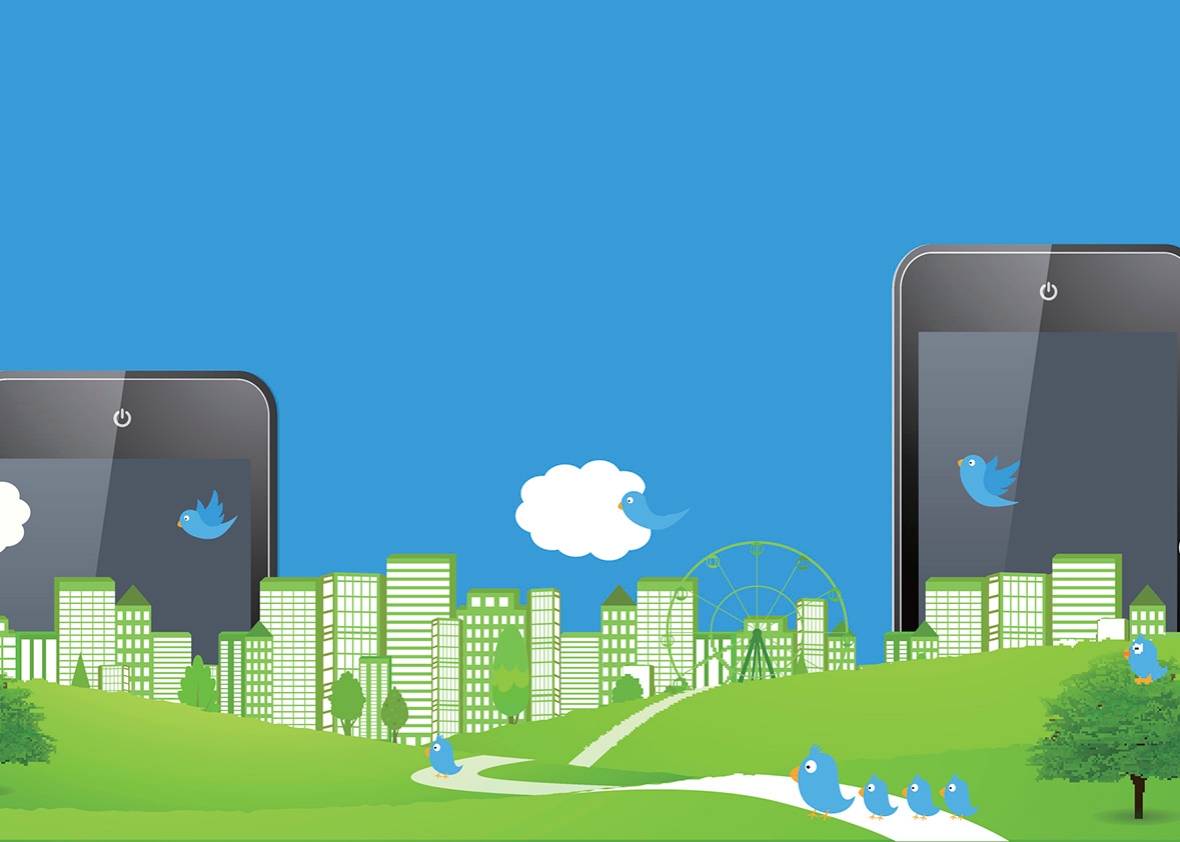 When Twitter's Moments section debuted on the platform in October 2015, it was a curated feature, helmed by Twitter employees who aimed to help users navigate the network's morass of breaking news and running jokes by offering them storylike assemblages of related tweets. It was, in other words, a way of pushing back against information overload, of extracting signal from noise without resorting to an algorithmic filtering of Twitter's signature timeline (though Twitter has now done just that in a limited way, with some success).
Discussing Moments in Slate shortly after it debuted, Lily Hay Newman suggested that it might help Twitter expand its reach. And though Moments have proved useful for many—not least of all to lovers of adorable animals—they haven't been enough to tip the balance in Twitter's favor: Even as the company has continued to grow its user base, it has repeatedly failed to do it robustly enough to meet Wall Street's expectations, new features like Moments notwithstanding.
Now Twitter is coming at Moments from a different angle, "opening up" the feature to other users of the site. On Tuesday, the company announced that it was "extending this creative format to more people, and eventually to everyone on Twitter." Though Twitter hasn't provided a clear timeline for the shift, it's already furnished an example of how it might work, inviting the Black Lives Matter activist and prolific tweeter DeRay Mckesson to revisit and memorialize some of the social media responses to the 2014 killing of Mike Brown. It's a striking example of what might be, partly because it's effective propaganda for Twitter itself—fêting the political promise of social media.
In the short term, however, Twitter seems less concerned with the ways ordinary users might eventually employ the feature than it is with outreach to "influencers, partners, [and] brands." Twitter's press release suggests it's hoping that publications will shift some of their own output onto Twitter, using it to tell stories to their audience, and not just to reach that audience with stories they've published elsewhere. It offers an example from Allure, in which Michelle Lee, the publication's editor in chief, leads readers through a day in her working life by way of a series of pictures and brief videos. Strikingly, where past Twitter Moments have attempted to capture larger conversations on the site, this one feels more like a monologue—less a recording from the cacophonous aviary than the ramblings of a particularly loquacious parrot. Much the same is true for one of the other examples that Twitter presents, a series of tweets from Budweiser about the redesign of its cans.
As the Next Web's Nate Swanner observes, such examples indicate that the evolving feature will be strikingly similar to Snapchat and Instagram's stories functions, which likewise allow users to link their photos and videography together into short narratives. The Facebook-owned Instagram, for its own part, has only just jumped on the bandwagon, unveiling its take on the Snapchat-like feature in early August. Even in this climate, however, Moments may stand out, partly because, as Swanner notes, where stories on other platforms can feel frenetic, those on Moments aren't "quite so hurried" since users can "linger on a tweet or video, and scroll back through just as you would with your timeline."
In that light, Moments may feel more accessible for certain users. While a host of publications already publish some of their content through Snapchat, reaching potentially huge audiences in the process, the app can be alienating to some novices. In fact, as Will Oremus has argued, its user interface is almost willfully opaque, as if it had been designed to ward off those who had aged out of its key demographic. Thanks to its fast pace, Twitter too can be alienating—and its culture is often insular, favoring cultural elites and communities of superusers—hence the original rationale for Moments. As Mckesson's Moment demonstrates, the expanded version of the feature aims to further overcome such frustrations, allowing accomplished users to lead tours through their own experience of the site. In Snapchat, by contrast, stories are essential to the frenetic design of the app rather than an escape from its excesses.
Perhaps more importantly, though, building Moments stories may feel more practical for media organizations that don't have an existing presence on Snapchat or lower-hassle for those that do. Moments could, in theory, become a way of connecting more directly with existing readers, another tool in the never-ending engagement game. In the optimistic scenario, that would be a coup for Twitter, helping keep users in its own interface instead of launching them to other destinations on the web, much as Facebook's Instant Articles feature tries to prevent users from switching out of its app. Indeed, a still more apt comparison might be to Facebook Live, with which the social network convinced publications to actually create content on and through the site, sometimes even paying them for the privilege.
That said, it's not clear whether Twitter is truly ready to get into the content-provider game, assuming that actually is what it wants. Some news publications currently look to Moments as they strive to get a sense of evolving news stories, but they may find it difficult to craft stories through Moments. On that front, the model suggested by Allure's story is unlikely to work for many other publications. While it offers a glimpse behind the scenes that may be appealing for some of the magazine's readers, it's ultimately too insubstantial to be truly revealing, demonstrating how difficult it can be to weave rich narratives in an emerging format. It's still possible that publications may find other ways to employ the feature: They might, for example, use it in a valedictory capacity to round up reactions to an article that helped spark larger conversations. For now, however, we're more likely to see it put to work by brands like Budweiser when they're looking to produce inexpensive advertorials.
If Moments does end up appealing to ordinary users, it may work best for those who've embraced the increasingly popular tweetstorm format, which involves crafting essays in 140-word chunks. Those inclined to on-the-fly essay writing could use Moments to collect their thoughts once they're done assembling them, allowing them to circulate and share their observations with those who weren't paying attention at the time. In that respect, it would serve as an onsite alternative to utilities like Storify, which let users collect social media posts in readable sequences.
While that might be a valuable tool for some, it also shows why Moments has never quite clicked on Twitter. Explaining what makes a tweetstorm work, Jeet Heer, one of the progenitors of the style, has argued that collecting tweets after the fact "doesn't fully capture the form," which is as much about the performance of thinking in public as it is about the individual thoughts. In losing that sense of immediacy, you likewise lose the thrill of a conversation in progress. Twitter, as Heer notes, is thrilling because it is ephemeral, a feeling that goes away when you try to hold it in place.
And that may be the problem with Moments more generally, no matter who's curating them: By the time you read one, the moment itself has already passed.