Eyeballs, Bagels, and a Gigantic Hunk of Wasabi
Inside the hilarious, treacherous, smelly world of minor league mascot races.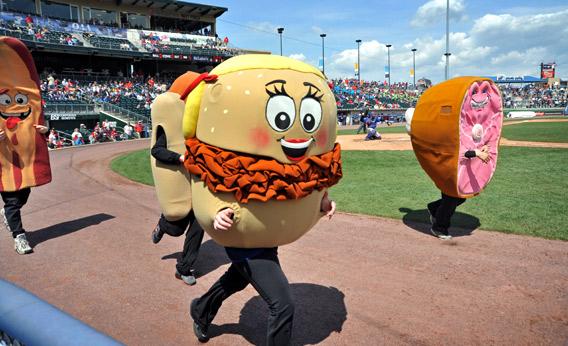 On a typical summer evening in Altoona, Pa., three giant bagels sprint along freshly cut grass in a test of speed and endurance. Meanwhile, 2,237 miles away, in Vancouver, B.C., a grown man zips himself into a plush, neon-green costume and hikes up a pair of shiny plastic trousers to portray a hunk of wasabi. And on the plains of Iowa, an oversized beverage cup with arms, feet, and a bent white straw at the top just took out the legs of some poor girl in a 7-foot-tall hot dog outfit. Welcome to the wonderful world of minor league baseball mascot races.
Even more than their better-recognized major-league brethren—the racing pierogi of Pittsburgh, the sausages in Milwaukee, the galloping presidents of D.C.'s Nationals Park—minor league races are designed to push the boundaries of logic and reason. This is a world in which eyeballs can run, fish wear lipstick, and giant asparagus stalks sport cool headbands.

Who do we have to thank for this kooky entertainment windfall? An array of bored minor league baseball marketing directors and an intern culture that provides a near-endless supply of youngsters willing to risk life and limb pretending to be fish with legs. It's also important to recognize the impact of Randall Carlito Simon. While it's true that ridiculous mascot races existed before the fateful evening in 2003 when the Pirates' first baseman clobbered that racing Italian sausage in Milwaukee, let's be honest: Mascot races never made SportsCenter before Sausagegate. If not for the attention derived from that ugly, bizarre incident, there would be no racing bagels.
But since there are racing bagels—and racing sushi rolls, and racing potato-chip bags—it seems worthwhile to speak to the men and women inside those costumes. Here's a rundown of the nine goofiest, most creative minor league mascot races, along with some pointers and gripes from those brave souls who suit up and run like hell.
A hot dog, chips, and an extra large soda: The Triple-A Iowa Cubs' Kum & Go "Go, Go, Go Race" features a giant hot dog, a 6-foot-tall bag of jalapeno chips, and an extra large drink cup. Stadium operations employee Sara Ingram is too short to race as the chip bag or the cup—the suits don't fit right—so she always runs as the hot dog. Thus far, she's 0-for-22. (Her big-league counterpart: the Washington Nationals' Teddy, who has never won the team's Presidents Race.) "After the race, fans usually heckle the loser," Ingram says. "I have had some miserable losses. Right around Easter, I gave up running when I got to second base and walked the rest of the way. Some fans really laid into me for that."
Fish with legs: The life of a running fish is no day at the beach, according to Lake County Captains promotions assistant Hannah Wolfe. "As soon as you get the fish suit on, you start to sweat, no matter what the weather is like," says Wolfe, a frequent fish racer for the Eastlake, Ohio-based Single-A club. Another hazard: "After the race, there are always lots of little kids who start hitting you." The nightly races aren't fixed by the team, Wolfe says, "but sometimes me and another girl will get together and plot to take down the one other girl, so one of us can win." She adds, "Let's just say … every time I've raced, I've won."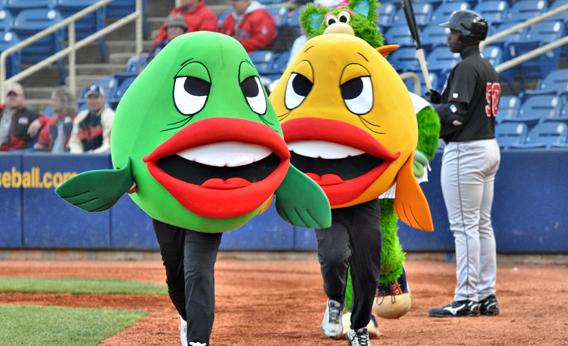 A taco, salsa, and a really big pepper: For those participating in the Triple-A Albuquerque Isotopes' chile pepper race, the costumes tend to be a problem. "They're not the easiest things to see out of," explains Eric Papp, who usually runs as the salsa jar in the Dodgers affiliate's sixth-inning race. "There are spots to look out of at the mouth and the eyes of the costume, so if you're the perfect height, great. Most people aren't though, and then their head doesn't line up with the openings. If you're not lined up perfect, you're kind of stuck."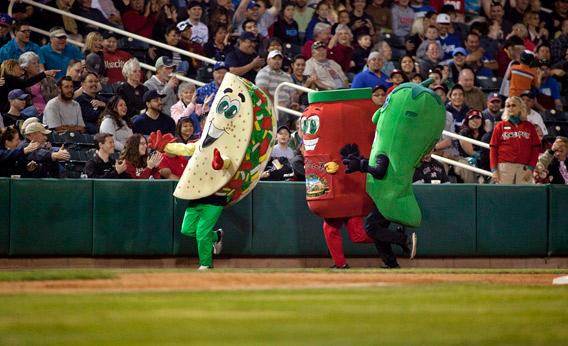 Sushi: Veteran sushi race participant Alex Dachis says he enjoys running as Chef Wasabi. But racing as a giant green glob in the Single-A Vancouver Canadians' sushi race can be treacherous. "On a very wet weekend, I was racing as Chef Wasabi and was actually winning," he says. "Then I hit a puddle and completely lost my feet from out under me. The kids got a good laugh out of it and thought it was all part of the race—but truth be told, I totally bailed, and it took me a minute to get up."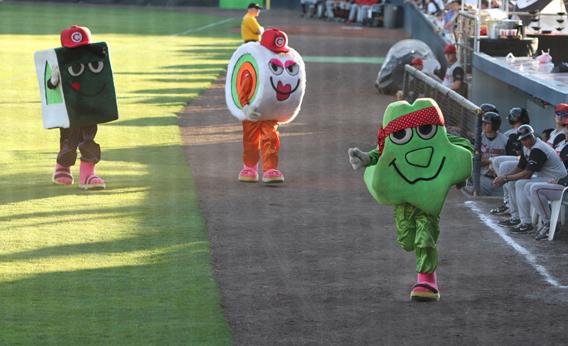 Mayors with giant heads: The Single-A Tri-City ValleyCats' home stadium is located near the upstate New York cities of Albany, Schenectady, and Troy. In the middle of the sixth inning, dudes in khakis and oxford shirts put on giant heads resembling each city's mayor and race down the right-field line. Sometimes one of the real mayors dons a big head. Most often, though, it's a guy like ValleyCats account executive Michael Johnson, who passed on some insider knowledge. "A little trick I learned last year was to look down out of the bottom of the head to make sure I am still on the warning track," he says, adding that the mayors fall quite a bit. "We are often running at near top speed, and leaning forward with the oversized heads messes with the racer's center of gravity."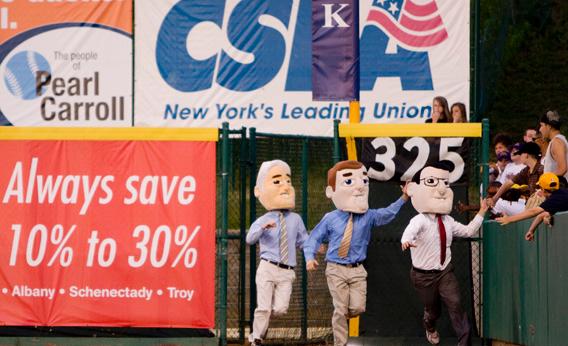 Bagels: Cody Clifton, who competes against Cinnamon Crunch Cindy and Asiago Allie at each Altoona Curve home game, believes he gets a raw deal. "As Blueberry Bob, I never get to win," he laments. Clifton wishes the Double-A Pirates affiliate's bagel race would take advantage of his natural athleticism—he notes that he is the "only one of the three [racers] who was actually on a track team at some point." Clifton says the bagel costumes are composed mostly of lightweight foam, so they aren't heavy, and they don't get all that hot. But he does use the word "stenchy" to describe them: "You tend to get used to your own scent, but then if someone else happens to be in your suit, it takes a while to get your own scent back."