Eyeballs, Bagels, and a Gigantic Hunk of Wasabi
Inside the hilarious, treacherous, smelly world of minor league mascot races.
Eyeballs: Lakewood BlueClaws director of promotions Hal Hansen often participates in the eyeball race that takes place during the sixth inning of every home game at FirstEnergy Park. The good news: The Single-A Phillies affiliate based out of Lakewood, N.J., recently acquired new costumes that feature a small battery-powered blower that keeps the eyes inflated. "It is incredibly better technology than the eyeballs we originally purchased in 2001," says Hansen. The bad news: The new costume set includes a brown eye. "Occasionally we'll hear [vulgar heckling] from an older fan," he says. "Usually those comments are on Thursdays when we have our $1 beers at our outfield tiki bar."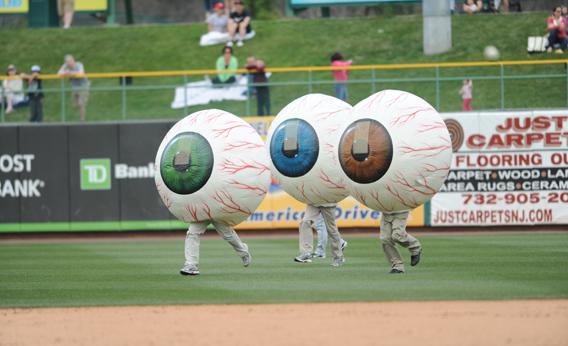 Asparaguses: Yes, those are asparaguses racing around the field at Stockton Ports games. And yes, the racing veggies do have names: Blanche, Burney, and Lil' Hank. This six-year-old race actually makes more sense than you'd think. Each spring, Stockton, Calif.,is home to the Asparagus Festival, so the Single-A affiliate of the Oakland Athletics came up with the race as a tribute to the community. And here's the kicker: Fans run this race. "[It's] just whoever walks in the front gate and is willing to participate," says media relations employee Nicole Loscavio. "They do sign a waiver once they volunteer," she explains.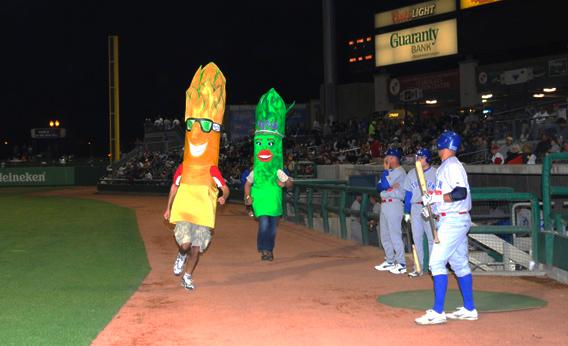 Pork products: These are the facts: 1) The Lehigh Valley IronPigs' Pork Racers are Chris P. Bacon, Diggity, Barbie Q., and Hambone. 2) Hambone is the most sinister, evil-looking hunk of ham you will ever see. He is scary. 3) Nothing is known about Hambone, or, for that matter, Mr. Bacon, or that sandwich-looking thing with blonde hair. Do not attempt to learn anything about these racers—all interview requests will be denied. "The Pork Racers, like most mascots, do not talk," I was informed by the Allentown Triple-A club's media relations staff. "[The team does not] want the identities of those who [are] in the costumes revealed. Our Pork Racers have their own identities, and we do not want fans to associate a Pork Racer with a specific person."
Advertisement

TODAY IN SLATE
Politics
Talking White
Black people's disdain for "proper English" and academic achievement is a myth.
Operation Backbone
How White Boy Rick, a legendary Detroit cocaine dealer, helped the FBI uncover brazen police corruption.