Small Wonder
The littlest town in Britain is home to every sport you've never heard of.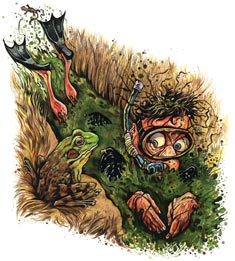 As is often the case with fairy tales, it all started with a frog. One day in 1732, while strolling through the wilds of Wales, the sickly Vicar of Llanwrtyd stumbled upon a foul-smelling spring. He gazed into the bubbling muck and, to his surprise, a rudely healthy frog popped out. The priest swallowed a mouthful of swamp and was instantly cured of his scurvy.
During its Victorian heyday, the hamlet of Llanwrtyd (pronounced Hlanurted) Wells transformed into a bustling spa resort where British gentry flocked to take the waters—chalybeate for anemia, sulphur for the complexion. Today, villagers mostly revel in the accomplishment of living in the tiniest town (pop. 606) in Britain. But what the vowel-deprived frog hamlet lacks in size, it makes up for in crackpot competitions.
Llanwrtyd Wells hosts every contest from the Man vs. Horse Marathon—a spring rite that pits Brit against Beast—to the World Bog Snorkeling Championships, to the Mountain Bike Bog Leaping Point-to-Point, a summer offering that is promoted as the dirtiest weekend in athletics. There's also the Real Ale Ramble (a kind of athletic pub crawl), the Real Ale Wobble (off-road cyclists stop at checkpoints on the course for free brew), the Red Kite Bash (bike-dismantling limbo contest, bike polo, chainless downhill), and the decidedly squidgy World Mountain Bike Bog Snorkeling Championships.
The man responsible for all this self-conscious nuttiness is Gordon Green, the town's chief kook and PR agent. An irascible 69-year-old with hair the color of old clothesline and a becalmed, moonstruck humor, Green is the former landlord of the Neuadd Arms, a Georgian hotel that seems to have been patterned after Fawlty Towers (or vice versa). "Bog snorkeling became truly international the year a Spaniard entered," he says, neglecting to mention the Spaniard worked at the Neuadd Arms.
Green will guide you on a town tour, starting with the small stone bridge that straddles the River Ifron. Down the road is Bernard's Bakery, where a window notice says: "Dogs parked at owner's risk." Farther on stands a plaque commemorating Sospan Fach, an allegedly famous Welsh song written in Llanwrtyd Wells. The sad refrain: "The little saucepan is boiling on the fire/ The little saucepan is boiling on the fire/ And the cat has passed away." Not one to let the allegedly famous go unmemorialized, Green has raised $6,000 to erect a giant stainless-steel cooking pot as tribute to this homegrown canticle to kittens and kitchenware.
No matter its dimensions, the souped-up saucepan likely won't rival the wattage of Green's most famous creation, the Man vs. Horse Marathon. It all started in 1980, as a bar bet in the Neuadd Arms. Emboldened by several pints of Double Dragon, two huntsmen debated whether a man was equal to a horse over the rugged terrain of the Cambrian mountains. Green overheard the argument and, like a brazen reality show producer, turned private dispute into public race. Bookmaker William Hill, who now sponsors the mad dash, offered £25,000 sterling to the first human who could outlast the equine competition over 22 miles of hills, woods, and bogs. The booty remained unclaimed until last month, when 27-year-old Huw Lobb of London beat 565 other bipeds and 47 quadripeds.
The town's obsession with bog snorkeling isn't as high-minded as the quest to settle the man vs. beast debate. "Llanwrtyd Wells needed funds for a new community center," Green recalls. "We held a meeting and a woman said, 'All I have in my garden is a bog.' That's how I came up with bog snorkeling."
What, exactly, was the connection between a bog and snorkeling?
Snorkelers must complete two lengths of a turbid 60-yard trench cut through a peat bog. The swimming is done facedown, against both the clock and what Green calls the "natural bog ingredients"—sludge, rotting weeds, and a floating carpet of leeches, newts, tadpoles, water scorpions, and decaying dead stuff. Mask, flippers, and wetsuits are allowed; conventional strokes are not. Most entrants sluice and splutter through the thick glop using a sort of bog paddle. Asked to describe what competitors might expect to see in the muddy waters, former champ Sian Evans has said, "Not much."
After years of running bog snorkeling and mountain bike events separately, it seemed only natural for Green to consolidate. In 1998, he had another ditch dug—this one 15 yards long and six-feet deep—and waited for bog bikers to arrive.
The rules for this year's just-completed mountain bike bog-snorkeling championship: Don snorkel, mount cycle, pedal into bog, turn at white pole at end, return to starting line. The tires of a bog bike are filled with water, and the frame is stuffed with lead shot. "For bouyancy," Green more or less explains.
The ladies' world title was won by Irish biology teacher Julia Galvin, who looped the rancid rut in two minutes and 36 seconds—an achievement not to be sniffed at. The ever-game Galvin—a week earlier she had finished dead-last in the 2004 World Wife-Carrying Championship in Finland—will return to trench warfare on Aug. 30 when she vies for the bog-snorkeling title. No doubt she'll once again be accused of being a ringer—Galvin is, after all, from Kerry, a county with its own bog ponies and bog village museum. "Really, it's just like being from Eritrea or Kenya in running," she sighs. "Nobody complains about their natural advantage."