Glavineland and Quisenberria
A new U.S. map based on where baseball players were born.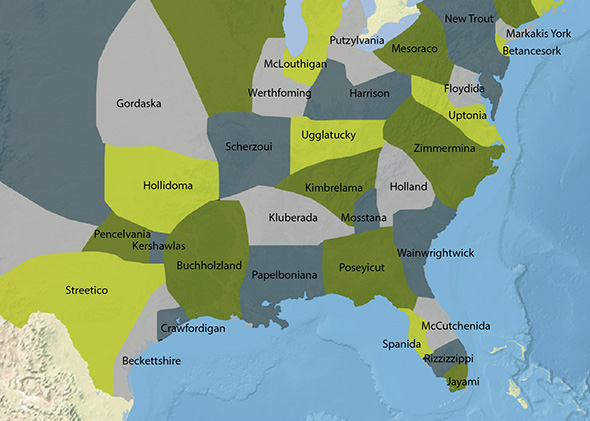 Thanks to the sports-reference.com family of websites (and ESPN player profiles, league sites, and Wikipedia), I was able to find the birthplace of every American player currently in any one of the four major sports. Click on the buttons below for an animated look at where and when the players in each sport were born.
Birth Locations of American-Born MLB, NBA, NFL, and NHL Athletes
Click buttons below to animate.

As you can see, there are some striking differences in where each sport's athletes are born. Hockey players, naturally, are concentrated in northern states like Minnesota, Michigan, and Massachusetts, and are almost completely absent from the South. Football, meanwhile, is overrepresented in the South. Fourteen current NBA players were born in one of New York City's five boroughs. That might not sound like a lot, but it's only one shy of the 15 NFL players born in New York City—and that's despite the fact that there are 4½ times more American-born football players than basketball players.
I was curious to see how player birthplaces have shifted over time, but finding comprehensive data for football, hockey, and basketball proved difficult. Thanks to the fanatical record keeping of baseball fans, however, I was able to locate the birth location of all 14,293 American-born players who have played in the major leagues between 1900 and the present day. Here's a map with those birthplaces plotted onto it:
Since 1900, the states where the most baseball players have been born are California, Pennsylvania, Illinois, New York, and Texas. The states with the least are Idaho, Montana, North Dakota, Wyoming, and Alaska. Here's a map of America if we were to divide the country into 50 states with the same number of baseball players born in each:
Each state in the map above has between 284 and 286 players born within its boundaries, and I gave each one a name based on a great player who was born there. Some cities, like New York, were split in two, even though I didn't have the precise birth location within the city for most players (otherwise, making 50 equal and contiguous states would have been impossible).
Like the population of the U.S., baseball player births have steadily shifted to the West over the years. The Census Bureau designates what it considers the "mean center of population." It's the point on which an imaginary weightless map would balance perfectly if equal weights representing each person in America were placed on it. While it may sound like an abstract concept, it merely represents the center of the United States if physical geography were replaced with human geography.
Using the same equation the census uses to determine the mean center of population of the U.S., the map below shows the shift of baseball player birth locations over time. The map is meant to capture the majors in a given year, so a player is counted for every year he appeared in a game. Although not pictured, players born in Hawaii or Alaska were included in the calculation. The year here corresponds to the baseball season, not the birthdates of the players:
Between 1905 and 2014, the mean center of the baseball universe shifted from central Ohio to northeast Oklahoma—a distance of more than 780 miles. Between the 1900 and 2010 censuses, roughly the same time frame, the population center of the United States only shifted 350 miles. Of course, the comparison is not direct. The census center of population is measuring where people live, whereas my map shows where players were born.
Much of the shift in baseball player birthplaces likely has to do with the growing number of players from California. Of players who have played in the majors since 1950, more have been born in California than in Texas, New York, and Illinois (the next three most common states) combined. For men who played before 1950, California only ranks fifth among most popular birth states. In some recent years, California has accounted for close to one-fourth of all American-born players.
As I mentioned above, it's harder to gather complete data on the birthplaces of athletes in the other major American sports. But from the information I was able to collect (23,000 football players, 3,200 basketball players, and 1,000 hockey players), we can get a rough sense of the relative difference in player geography across sports. For instance, other sports have not seen baseball's pronounced shift westward.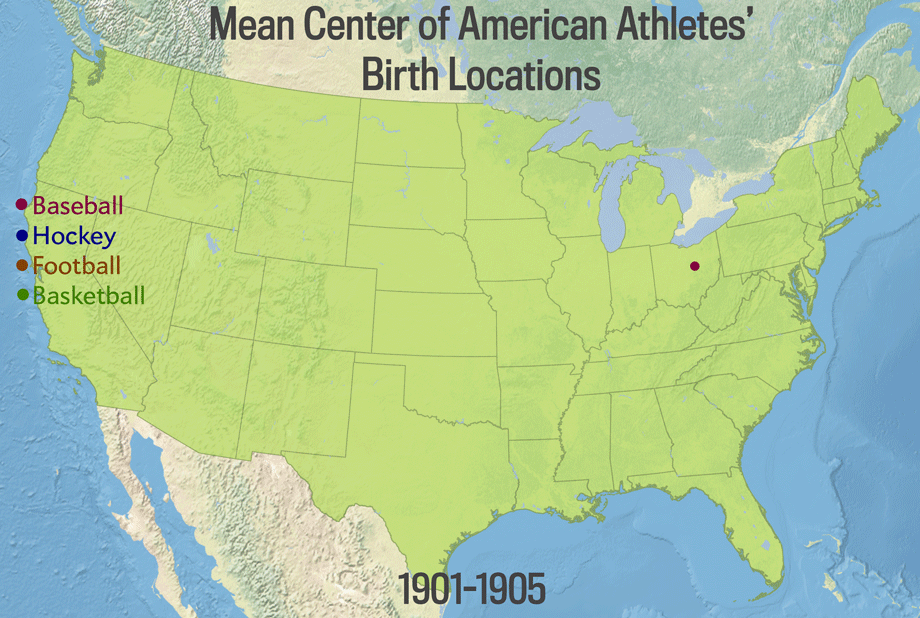 Historically, the majority of professional hockey players have not been American, and those born in America are often born in the northernmost states. Even though my data includes no one born in Canada, the northern skew actually places the mean center of birth locations in Ontario. (Ontario is south of northern states like Maine, Minnesota, and Alaska, where many players are born.)
And although the mean center for baseball players has shifted from Ohio to Oklahoma, remember that this shift has less to do with those states in particular than with the rise of California, specifically Southern California, as the nation's hotbed of baseball talent. Dividing the country into 50 equal states based on player birthplace since 1900 results in Southern California being cut into three states. Making the same division, but based on 2014 player birthplaces only, leaves the Los Angeles–San Diego area divided into seven states. Likewise, southern Florida transforms from one state to nearly four.
Meanwhile, Jacoby Ellsbury, who was born in the western Oregon city of Madras, can claim citizenship in the 810,000-square-mile Ellsbury Territory, which is a full 805,000 square miles bigger than Adrian Gonzalez's San Gonzalez in the heart of baseball crazy SoCal.
Correction, Oct. 11, 2014: The interactive birth-location map for baseball players originally listed Nationals player Denard Span as being born in Tampa, Florida. He was actually born in Washington, D.C., though raised in Tampa. The map has been corrected. In the map of invented state names based on current players, the name given for southwestern Florida has been changed from "Spanida" to "Joyceland," after Tampa native and Rays player Matt Joyce.