The Checkup Podcast: Pregnancy Myths
A new collaboration between Slate and WBUR discusses pregnancy myths around bed rest, labor pain, and when to cut the cord.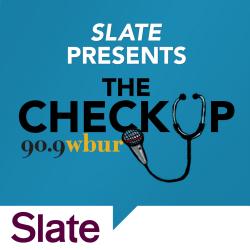 Listen to the debut episode of The Checkup:
The Checkup is a new health podcast, a collaboration between Slate and WBUR, Boston's NPR News Station, and features the authors of WBUR's health care blog CommonHealth: Carey Goldberg, former Boston bureau chief of the New York Times, and Rachel Zimmerman, former health care reporter at the Wall Street Journal. New episodes will appear on Mondays in the Slate Daily Podcast and The Checkup's individual feed.
Regular CommonHealth readers will be familiar with our blend of solidly reported, somewhat opinionated health-related news you can use (at least we think you can use it, since we can and have). Each episode will focus on a different topic—from sex problems and students' mental health as they head back to school, to fitness snake oil and vaccine controversies. Tune in next Monday for Episode 2, "Topics Below the Waist."
The Checkup Podcast is produced at WBUR by George Hicks.