The Audio Book Club on Swann's Way
Our critics celebrate the 100th anniversary of Proust's In Search of Lost Time.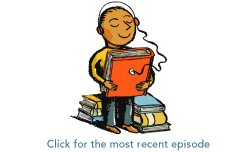 To listen to the Audio Book Club discussion of Swann's Way, click the arrow on the player below.
This month, "Brow Beat" editor David Haglund, Slate senior editor Emily Bazelon, and Slate cultural critic Meghan O'Rourke discuss Marcel Proust's In Search of Lost Time. It's the 100th anniversary of Proust's masterpiece, and our critics dug into the first volume, Swann's Way. They wrangle with the meaning of that famous madeleine and debate whether this famous meditation on memory is really all about desire. Also: Was Proust a terrible snob?
Visit our Audio Book Club archive page for a complete list of the more than 60 books we've discussed over the years. Or you can listen to any of our previous club meetings through our iTunes feed.
Podcast produced by Abdul Rufus and Andy Bowers.