The Negative Path to Happiness
An interview with Oliver Burkeman.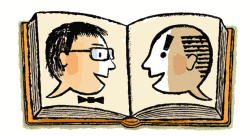 Listen to Episode 25 of The Afterword:
For some reason, trying to be happy often makes us miserable. Knowing this, Guardian writer Oliver Burkeman decided to explore the negative path to happiness. His new book, The Antidote: Happiness for People Who Can't Stand Positive Thinking, explores an alternative route to contentment with insights from sources as varied as Greek philosophers, Buddhist practitioners, experimental psychologists, terrorism experts, and business consultants. The discussion lasts about 25 minutes.
The Afterword, which appears in the Slate daily podcast feed every other Thursday, features interviews with the authors of new nonfiction books. The next guest will be Anne Applebaum, author of Iron Curtain: The Crushing of Eastern Europe, 1944-1956. It will be available on Dec. 6.
The podcast is produced by June Thomas. The executive producer of Slate's podcasts is Andy Bowers.