How To Make a Toaster From Scratch
An interview with Thomas Thwaites.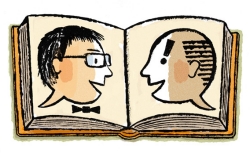 Listen to Episode 6 of Slate's new podcast, The Afterword:
Where do toasters come from? That was the question Thomas Thwaites asked when he examined the appliance he had bought for $6 at a local store. How can a piece of equipment that contains more than 400 separate parts gathered from around the world be so inexpensive? In an attempt to calculate its real cost—and to prepare himself for life on a desert island—he set out to build a toaster from scratch. The Toaster Project chronicles Thwaites' effort to get his hands on iron ore, mica, plastic, copper, and nickel and to shape those raw materials into a working toaster. The interview runs around 25 minutes.
The Afterword, which will appear in the Slate daily feed every other Thursday, features interviews with the authors of new nonfiction books.
Podcast produced by June Thomas. The executive producer of Slate's podcasts is Andy Bowers.