Rez Life: An Indian's Journey Through Reservation Life
An interview with David Treuer.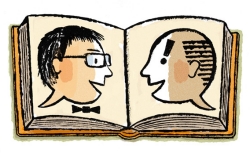 There are 310 or so Indian reservations in the United States. Some are rich, many are poor, but all are vibrant communities with a long, complex history. In his new book Rez Life, David Treuer, an Ojibwe Indian who grew up on the Leech Lake Reservation in northern Minnesota, looks at the history of reservations from the inside out. The discussion ranges from common misconceptions about reservation life, to the origin of Indians' right to hunt and fish, and how tribes decide if someone is an Indian. It lasts around 27 minutes.
The Afterword, which will appear in the Slate daily feed every other Thursday, features interviews with the authors of new nonfiction books.
The show's email address is slateafterword@gmail.com.

Podcast produced by June Thomas. The executive producer of Slate's podcasts is Andy Bowers.