An Aging Amateur Enters the Octagon
A new podcast about nonfiction books and their authors.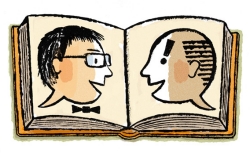 Listen to Episode 3 of Slate's new podcast, The Afterword:
At the age of 21, Matthew Polly dropped out of Princeton to study kung fu at the Shaolin Temple in China. Fifteen years and 100 pounds later, he decided to get back into shape to explore the world of mixed martial arts, now firmly entrenched as America's most popular fighting sport. Tapped Out chronicles his two-year journey back to fitness, all the way to the night when he got into the cage to square off in a bout against a much-younger fighter. The discussion lasts around 25 minutes.
For more on Polly's journeys around the world, most of which involve a little martial arts training, check out his Slate travel series from Russia, Thailand, and Brazil.
The Afterword, which will appear in the Slate daily feed every other Saturday, features interviews with the authors of new nonfiction books. June's next interview will be with Patricia Cohen, author of In Our Prime: The Invention of Middle Age.
Podcast produced by June Thomas. Executive producer: Andy Bowers.